International
Mother Of 5, Abducted By Hamas, Tracked down Dead Close to Gaza Clinic: Israel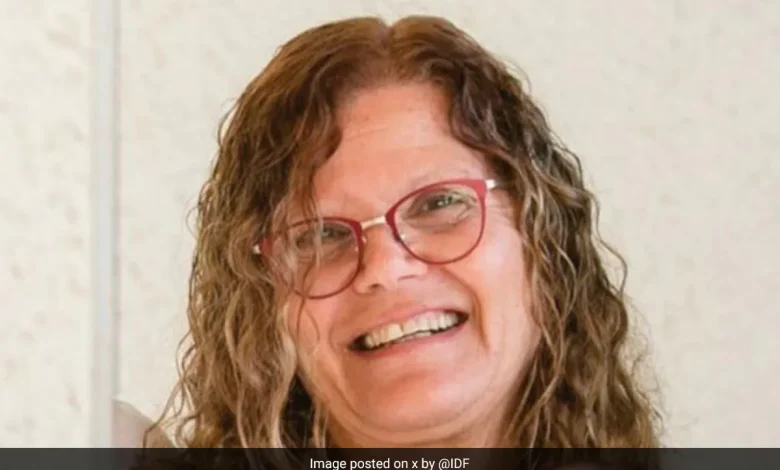 As Israel's strikes into Gaza's Al-Shifa clinic proceed, the safeguard powers on Friday guaranteed they had found the body of, a hijacked prisoner by Hamas agents during their October 7 assault, close to the medical clinic.
The prisoner, distinguished as 65-year-old Yehudit Weiss, "was extricated by Israeli Protection Power troops from a construction contiguous Shifa medical clinic", a military assertion said. "Yehudit was killed by the fear based oppressors in the Gaza Strip and we didn't figure out how to contact her in time," IDF representative Daniel Hagari said.
In a post on X, IDF said Weiss was a mother to five youngsters and worked at a kindergarten. On October 7, she was abducted from her home in South Israel's Kibbutz Be'eri while her significant other was killed by Hamas, they said.
"On October 7, Yehudit was snatched by Hamas from her home in Kibbutz Be'eri. Her better half, Shmulik Weiss, was killed in their home. Yehudit and Shmulik were guardians to 5 youngsters. IDF troopers recuperated her body from a structure neighboring the Shifa Emergency clinic in Gaza recently," the post read.
The Israeli armed force likewise professed to have found attack rifles including AK-47s, RPGs, and other military gear close to Weiss' body.
Weiss was one of the 240 prisoners taken by Hamas during its underlying assault last month, Israeli authorities have guaranteed. Then again, Hamas has blamed Israel for killing its own prisoners during its steady siege of the Gaza Strip.
Many Israeli fighters alongside tractors lay attack to Al-Shifa emergency clinic on Thursday asserting they had found film connected with the prisoners on the office's PCs. Israeli powers have, for a really long time, guaranteed Hamas has laid out a base and mystery burrow under the clinic, utilizing it to store its ammo.
During its activity inside the emergency clinic, the powers professed to have found "insight materials including hardware having a place with Hamas" at the Al-Shifa.
Something like 2,300 patients, staff, and regular folks are inside the medical clinic, including 36 infants, UN said. The clinic, which ran out of fuel, said water, power, and oxygen was removed as the Israeli warriors broke into the premises. Somewhat recently, three untimely infants alongside a few ICU patients have kicked the bucket because of fuel deficiency.