Biographies
Lifestyle
Kiccha Sudeep Biography – An Indian Actor, works in Kannada language films
Sudeep Sanjeev, known mononymously as Sudeep, is an Indian actor, director, producer, screenwriter, television presenter and singer, who primarily works in Kannada language films, in addition to appearances in Telugu, Hindi and Tamil language films.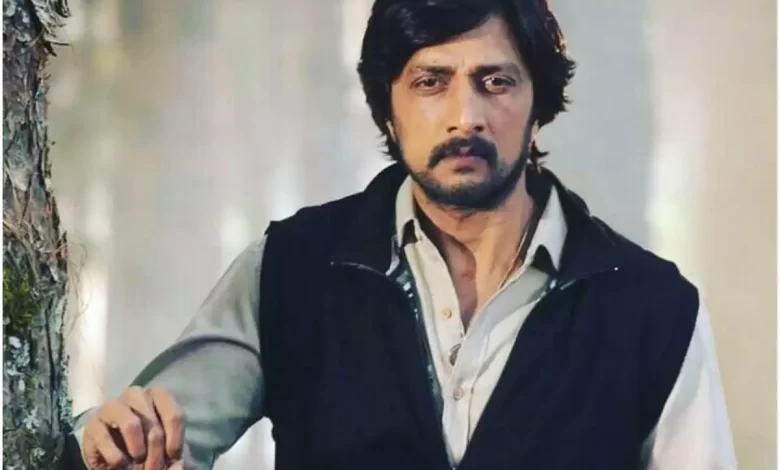 Quick Info→
Real Name:
Sudeep Sanjeev
Profession:
Indian actor, director, producer and screenwriter
Birthplace:
Shimoga, Mysore State (now Karnataka), India
Spouse:
Priya Radhakrishna
Age:
48 years
Sudeep Sanjeev (born 2 September 1973), known mononymously as Sudeep, is an Indian actor, director, producer, screenwriter, television presenter, and singer who primarily works in Kannada in addition to appearances in Telugu, Hindi and Tamil language films.
Sudeep is known for his performances in the Kannada films Sparsha (2000), Huchcha (2001), Nandhi (2002), Kiccha (2003), Swathi Muthu (2003), My Autograph (2006), No 73, Shanthi Nivasa (2007), Mussanjemaatu (2008), Veera Madakari (2009), Just Maath Maathalli (2010), Only Vishnuvardhana (2011), Kempe Gowda (2011), the Telugu Tamil bilingual Eega (2012), Maanikya (2014), Ranna (2015), Kotigobba 2 (2016), Hebbuli (2017), The Villain (2018), Pailwan (2019), Telugu-Hindi bilingual Rakta Charitra and the Hindi film Dabangg 3 (2019).
He won the Filmfare Award for Best Actor – Kannada for three consecutive years for his films Huchcha, Nandhi and Swathi Muthu. Since 2013, he has been hosting the television reality show Bigg Boss Kannada. His performance in the 2001 film, Huchcha, earned him the nickname Kiccha Sudeep by his fans.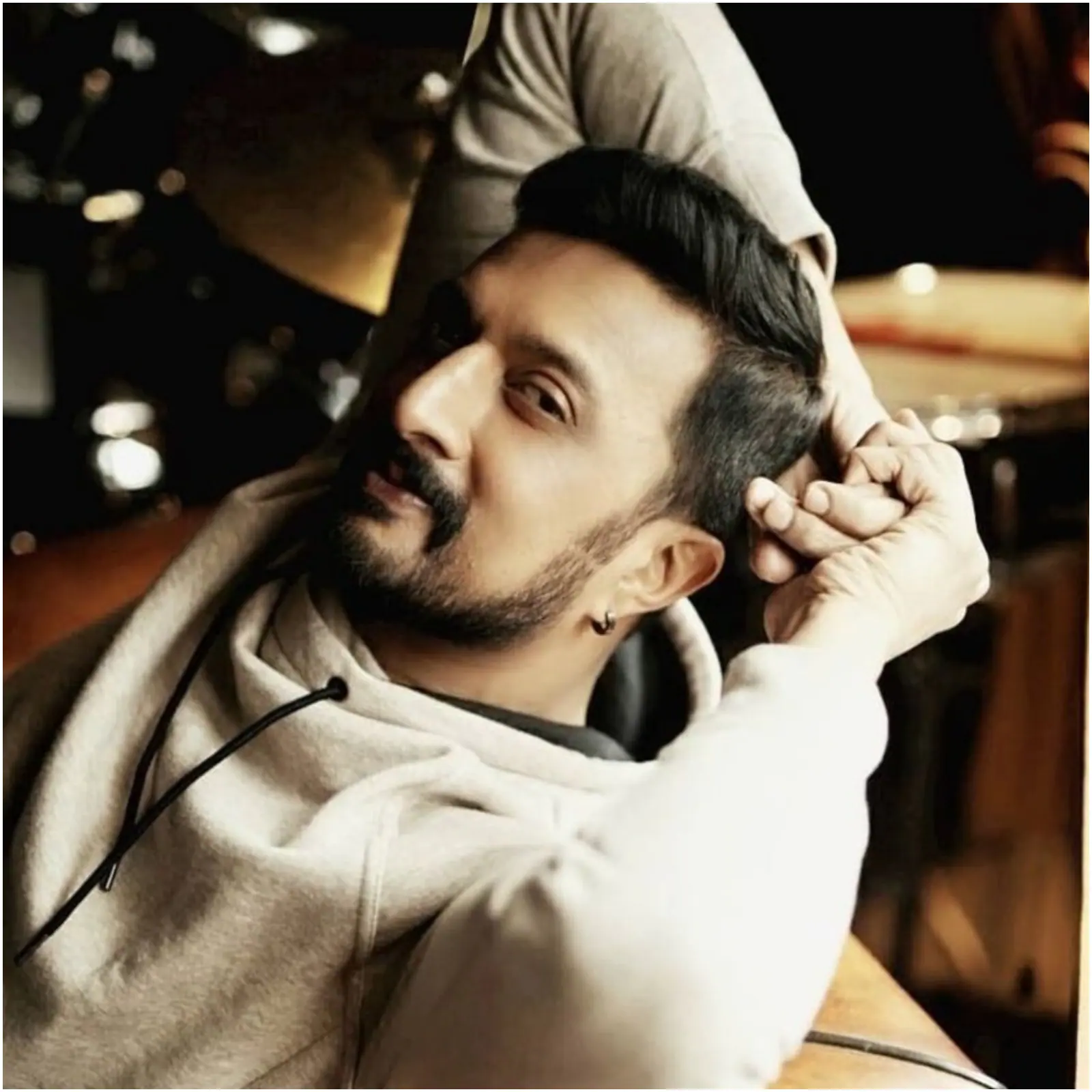 Kiccha Sudeep Biography

Born

Sudeep Sanjeev

2 September 1973 (age 48)

Shimoga, Mysore State (now Karnataka), India

Other names
Kiccha Sudeep
Education
Dayananda Sagar College of Engineering
Occupation

Actor
director
producer
Television presenter
singer

Years active
1997–present
Title
Abhinaya Chakravarthy

Spouse(s)

Priya Radhakrishna

(

m.

 2001)

​

Children
1
Early life (Kiccha Sudeep Biography)
Sudeep was born to Sanjeev Manjappa and Saroja in Shimoga in the Shimoga district of present-day Karnataka. The family had migrated to Shimoga from Narasimharajapura, Chikmagalur district. He obtained a bachelor's degree in Industrial and production engineering from Dayananda Sagar College of Engineering, Bangalore. He represented the college in under-17 cricket. He attended the Roshan Taneja School of Acting in Mumbai, where he overcame his 'shyness'.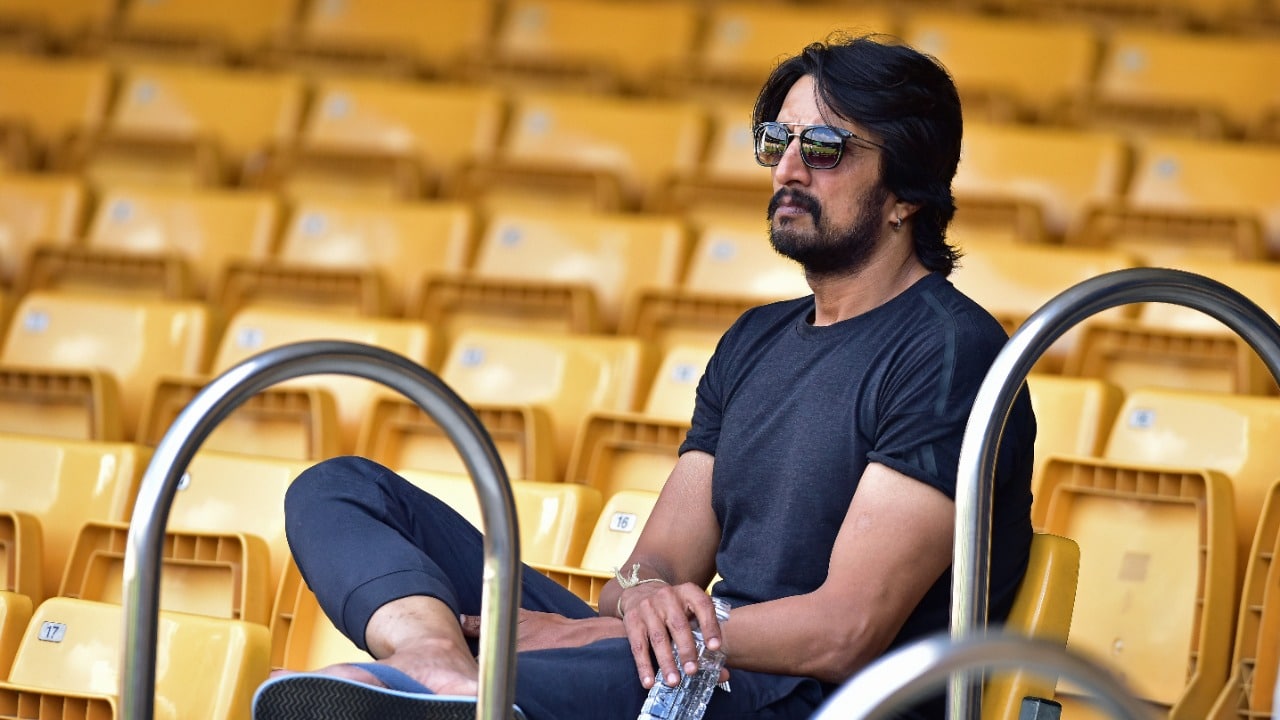 Career
Actor
Sudeep began his film career in Thayavva (1997). He then played a supporting role in Prathyartha, directed by Sunil Kumar Desai, and a lead role in the same director's Sparsha. In 2001, a role in Huchcha gave him his first big following. In 2008 he made his Bollywood debut in Phoonk. He has also starred in Ram Gopal Varma's movies Rann, Phoonk 2 and Rakta Charitra. They were followed by Kempe Gowda and Vishnuvardhana (2011).
Sudeep made his debut in Telugu cinema in 2012, with S. S. Rajamouli's Eega, a fantasy film in which he portrayed an industrialist who, on falling for an NGO worker (played by Samantha Ruth Prabhu), kills her alleged lover, who begins to haunt him in the form of a housefly. The film and Sudeep's performance were highly acclaimed. In 2013, Bachchan and Varadanayaka were released. His next film was a drama titled Maanikya that he also directed, a remake of the Telugu film, Mirchi (2013). In 2015 he starred in Ranna, a remake of the Telugu film, Attarintiki Daredi, and played a cameo role as a Persian arms trader in Baahubali: The Beginning, directed by S. S. Rajamouli—the year's highest-grossing film.
He frequently sings in his screen roles, including Vaalee (2001), Chandu (2002), Ranga SSLC (2004), Nalla (2004), #73, Shaanthi Nivaasa (2007), Veera Madakari (2009), Kempe Gowda (2011), Bachchan (2013) and also for others movies such as Mandya to Mumbai (2014), Ring Road Shubha (2014) and Raate (2015).
In 2019, Sudeep was seen in the Hindi film Dabangg 3 where he played the archenemy of Salman Khan's Chulbul Pandey.
Sudeep completed his 26 years in the film industry.
Sudeep's upcoming film Vikrant Rona will be directed by Anup Bhandari and will feature Nirup Bhandari and Neetha Ashok.
Director and producer
He has directed Kannada films like My Autograph, No 73, Shanthi Nivasa, Veera Madakari, Just Math Mathalli, Kempe Gowda and Maanikya. He also wrote the script for Just Maath Mathalli.
He owns a film production company named Kiccha Creations, which is credited with My Autograph (2006), No 73, Shantinivasa (2007), Jigarthanda (2016), and Maanikya (2013), Ambi Ning Vayassayto (2019).
Television
Sudeep made his TV debut in the serial Premada Kadambari, named after a line in the song Bandhana on Udaya TV. He was roped in to play the main host of the reality show Pyate Hudgeer-Halli Lifu, aired on Suvarna, which was an immediate success. Endemol Shine Group's flagship shows Big Brother was adapted to Kannada as Bigg Boss Kannada and Sudeep was chosen to play the host for the first season which was aired on ETV Kannada. He continued to host the second season on Asianet Suvarna. Colours Kannada (formerly ETV Kannada) regained the rights to the show in 2015 with Sudeep signing a five-season deal to host the show which was estimated to be around ₹20 crores (equivalent to ₹26 crore or US$3.4 million in 2020) which was a landmark deal in Kannada television industry.
Personal life (Kiccha Sudeep Biography)
Sudeep is the Karnataka Bulldozers cricket team captain that competes in the Celebrity Cricket League.
Sudeep met Priya Radhakrishna in Bengaluru, in 2000 and they married in 2001. Before their marriage, Priya worked in an airline company and then in a bank. Their only child, Saanvi, was born in 2004. In 2013, Sudeep launched Stage 360°, an events management company, that his wife took an active part in. The couple split in September 2015 and reconciled.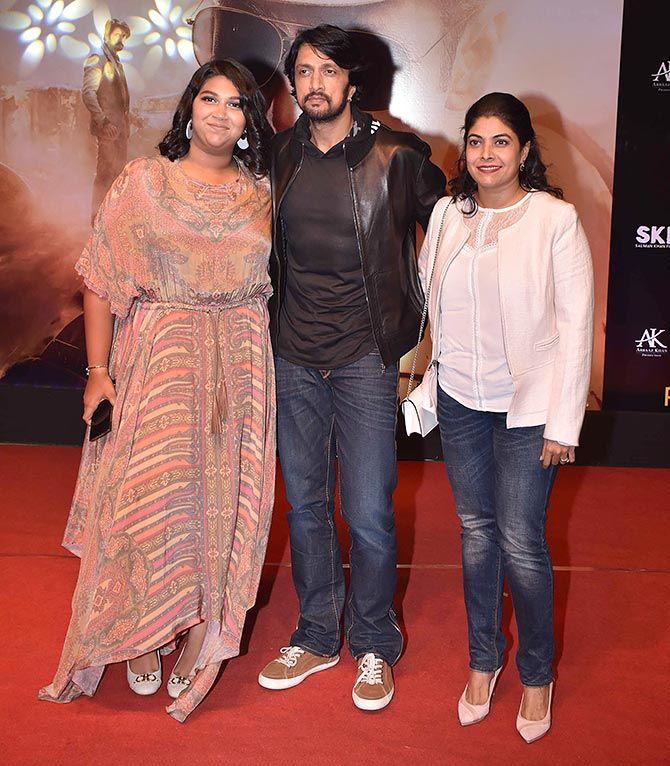 In the media
Sudeep has been described by critics as one of the most talented actors in Kannada cinema. He was listed first in the Times 25 Most Desirable Men in Bangalore in 2012. In 2012, he was given the title, "Abhinaya Chakravarthy", by a Kannada organisation, Karnataka Rakshana Vedike.
In 2012, Sudeep was signed as the Brand Ambassador of Joyalukkas, a Jewellery Retail Chain. In 2013, he was appointed as the Brand Ambassador for Bangalore Traffic Police Department and Income Tax Department. In 2014, he was appointed as the Brand Ambassador for Intex Technologies (India) Mobiles & Paragon Footwear.
In 2013, on World AIDS Day, Sudeep teamed up with Vijay Raghavendra and other actors to record voiceovers for the TeachAids interactive software, developed at Stanford University.
In 2015, Sudeep appeared in advertisements in the Kannada language for OLX.in and the veteran Kannada actor, Anant Nag. He had previously appeared in ads with Sadhu Kokila for the same company.
On 13 June 2021, Sudeep along with other celebrities and billionaires participated in the "Checkmate Covid" charity event for the COVID-19 Pandemic where they played in a chess simultaneous exhibition hosted by former World Chess Champion Vishwanathan Anand. Despite losing the game, Sudeep's quality of play was extremely high despite not being known as a particularly strong player which raised suspicions on online platforms of cheating using chess engines. Soon Sudeep's account on chess.com was closed for violating their Fair Play Policy but was restored shortly afterwards as both chess.com and Anand agreed that the games were played in good faith for the fun and good intentions of the charitable efforts and that not all the rules were properly understood. Further, Anand clearly expressed that he does not endorse the use of non-approved assistance in chess.
Humanitarian work
Sudeep is involved in humanitarian works through his organisation Kiccha Sudeep Charitable Trust. The trust helps underprivileged school children, providing them with uniforms as well as scholarships. The society helped senior Kannada film artists, technicians and others by providing them with necessary help during the Covid pandemic who were unable to get work.
Discography (Kiccha Sudeep Biography)
As playback singer
Year
Song
Film
Composer
Co-singer(s)
Notes
2001
"O Sona"
Vaalee
Rajesh Ramanath
Hariharan
"Vasantha Maasadalli"
P. Unnikrishnan
Anuradha Sriram
2002
"Sontada"
Chandu
Gurukiran
2003
"Pataisu"
Black and White
Rajesh Ramanath
2004
"Dove Dove Duniya"
Ranga SSLC
Sandeep Chowta
"Bhoomi Yake"
Raju Ananthaswamy
Shamitha Malnad
"Macha Dove Hodiyod"
Nalla
Venkat Narayan
2007
"Ondu Olle Kathe"
No 73, Shanthi Nivasa
Bharathwaj
Shiva Rajkumar
2009
"Jinta Tha"
Veera Madakari
M. M. Keeravani
2011
"Hale Radio"
Kempe Gowda
Arjun Janya
Shamitha Malnad
Nominated—Times Film Awards Best Singer Male – Kannada
2013
"Onchuru"
Bachchan
V. Harikrishna
Indu Nagaraj
2014
"Kanasige Koneyilla"
Ring Road
Vani Harikrishna
"Jodi Hakki"
Rhaatee
V. Harikrishna
2015
"Damaru Bole"
Mandya to Mumbai
Charan Raj
Charan Raj
"Deola Deola"
Sangeetha Katti
2016
"Tiger Tiger"
Tiger
Arjun Janya
"Huna Huna"
Kotigobba 2
D Imman
Nithya Menon
2017
Hatharike Bappa Re
Uppu Huli Khara
"Ivale Nanna Hudugi"
Naa Panta Kano
S. Narayan