Editorials
International
National
News
Other
Sports
Indian Chess Player Praggnanandhaa Shows His Potential! All Eyes on the Praggnanandhaa VS Carlsen Final
From challenging the greats to displaying maturity beyond his years, the Praggnanandhaa news of victory in the world of chess is one of both promise and inspiration.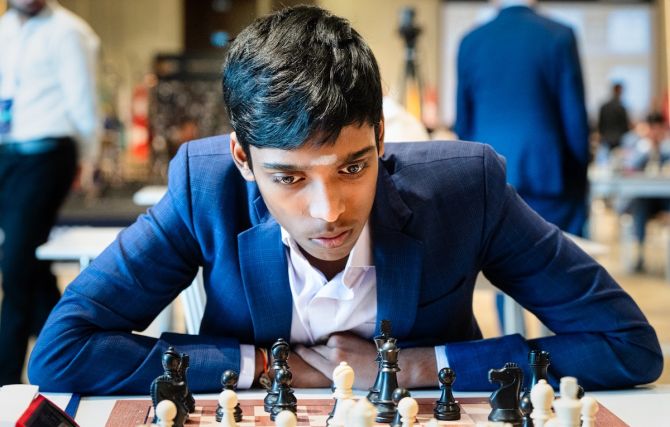 In the battleground of chess, where strategy and intellect converge, a young Indian prodigy has been capturing the world's attention with his remarkable performances and undeniable talent. Rameshbabu Praggnanandhaa, often simply referred to as Pragg, has been making waves in the chess community, leaving a trail of victories and awe-inspiring games in his wake. From challenging the greats to displaying maturity beyond his years, the Praggnanandhaa news of victory in the world of chess is one of both promise and inspiration.
Early Beginnings and Family Support
Pragg's tryst with chess began at the tender age of just five when his curiosity led him to explore the intricacies of the game. Born on 10 August 2005 in Chennai, India, his interest was fostered by his family, who recognized his exceptional potential early on. Praggnanandhaa family, including his father, Rameshbabu, and mother, Nagalakshmi, left no room for demotivation in nurturing his passion. His sister, Vaishali, is also a notable chess player, adding to the family's chess prowess.
Remarkable Achievements and Meteoric Rise
Pragg's meteoric rise in the chess world has been a spectacle to witness. He achieved the title of International Master at the age of 10, becoming one of the youngest players to do so. By the time he turned 12, he had already secured the Grandmaster title, further solidifying his position as a chess prodigy. His aggressive and tactical style of play has drawn parallels to the great Bobby Fischer, and he's proven his mettle in various international tournaments, often competing against opponents much older than him.
Recent Performances and Clash with Carlsen
One of the highlights of Pragg's career so far was his highly anticipated match against the Italian chess grandmaster Caruana. The encounter showcased the chess world's excitement about Pragg's potential to challenge the best. Praggnanandhaa shocked the world by beating Caruana. The experience of playing against a player of Caruana's caliber undoubtedly provided Pragg with invaluable insights and lessons to further hone his craft. Now he is all set to be part of the finale. The world wishes him all the very best for his upcoming match with the reigning world champion Carlsen. 
Age, Salary & Net Worth
Praggnanandhaa age is just 18. His age has been a significant factor in his remarkable achievements, making his accomplishments even more impressive given his youth. In terms of salary, professional chess players typically earn through tournament winnings, sponsorships, endorsements, coaching, and other related activities. Though the Praggnanandhaa salary is a mystery, his growing reputation and success have likely attracted sponsorships and support from various sources, contributing to his financial well-being. Being the owner of an online chess franchise, Praggnanandhaa net worth is around Rs. 80-90 lakh.
Praggnanandhaa Rating A Promising Future
Praggnanandhaa rank in the world is 29. His journey in the world of chess is still unfolding, and his future holds immense promise. As he continues to compete on the international stage, his fans eagerly anticipate his participation in elite tournaments and clashes with chess titans. His determination, work ethic, and passion for the game are the building blocks of a career that could potentially shape the course of chess history. Praggnanandhaa live rating has jumped up to 2645, which indeed is a milestone!
Conclusion
The Praggnanandhaa Chess Story is one of dedication, family support, and exceptional talent. His recent performances, including his match against Caruana, have highlighted his potential to become a dominant force in the chess world. As he continues to evolve as a player, he serves as an inspiration to aspiring chess enthusiasts worldwide. With his prodigious skills and unwavering dedication, Pragg's journey is a testament to the timeless allure of the game of chess.