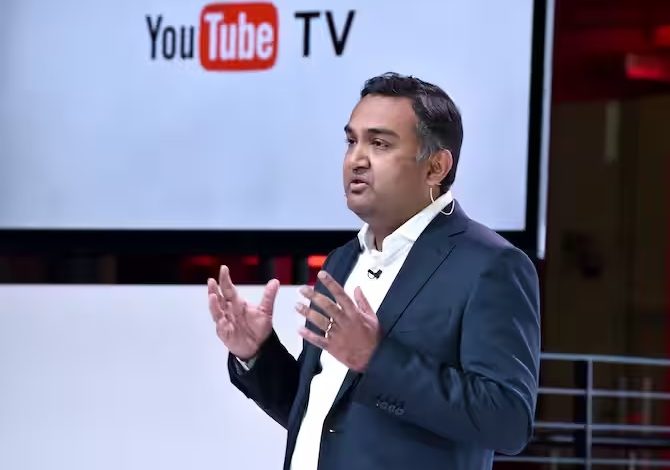 Neal Mohan is a prominent technology executive who is currently YouTube's CEO. He was appointed after Susan Wojcicki resigned from her position to focus on health and family.
Before joining Google, Mohan worked at DoubleClick Company, an online advertising firm. He led product development at DoubleClick and was a crucial player in the sale to Google.
Why Susan Wojcicki resigned?
YouTube's long-time CEO Susan Wojcicki has resigned, the latest in a string of high-profile tech executives to step down. In her nine-year run at the helm, she helped YouTube grow from a quirky video site facing complaints about copyright infringement into one of the biggest online media companies in the world.
She grew the company to become a lucrative platform for thousands of creators to make money from their videos, sharing a slice of their ad revenue with Google. In 2022, YouTube generated $29.2 billion in ad sales for Alphabet Inc, its parent company.
In a letter to YouTube, Wojcicki said she wanted to "start a new chapter in her life" and focus on her family, health, and personal projects she is passionate about. 
Who is Neal Mohan?
The new CEO of YouTube, Neal Mohan, is an Indian-American executive who has worked with Susan Wojcicki for over 15 years. He was chosen to replace her after she announced she was stepping down from her post.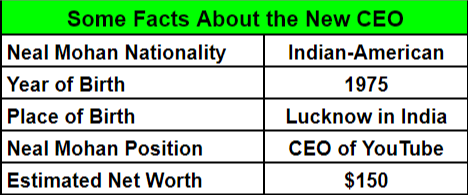 The shift comes when YouTube, which is Google's video streaming platform, is losing revenue and facing competition from short-video apps like TikTok. But Mohan, the chief product officer at YouTube, is well-regarded by advertising insiders and is a quiet, competent, and determined executive.
He joined Google in 2008 when the company acquired DoubleClick, an integrated advertisement platform. He is a Stanford graduate and earlier worked with Microsoft. He also sits on the board of Stitch Fix, a personal styling service, and genomics and biotechnology company 23andMe.
His Early Years
Mohan's LinkedIn profile reveals his background, which began at Accenture and then DoubleClick before joining Google in 2007. Before becoming CEO of YouTube, Mohan was a senior vice president of display and video ads at Google. He was responsible for developing several of the company's ad products, including AdWords, Google Analytics, and DoubleClick. He worked on the company's advertising platform, AdSense, before becoming the Chief Product Officer for YouTube in 2015.
He was responsible for YouTube's growth during its early days, helping it catch digital ad dollars while expanding into linear TV budgets as well. The company launched its Premium and YouTube TV products under his leadership, and he also helped grow the YouTube Music platform and the 'Shorts' service. Neal Mohan has been instrumental in reshaping the video-sharing platform. As part of his role, Mohan has also helped the platform monetize its content creators. This includes increasing the amount of data creators can access and providing them with new revenue streams, such as Super Talk and Super Stickers. He was also instrumental in launching the TrueView ad format, which allows viewers to skip ads they don't like, and Facebook's News Feed ads, which integrate ad content into users' feeds. He now leads YouTube's trust and safety team, which oversees the creation of platform policies and community guidelines.