Cricket
Editorials
International
Heath Streak Dead or Alive? "I just heard from him," Says Olonga!
In the wake of Heath Streak's death news being fake, the cricketing community celebrates the life of a talented individual who contributed significantly to the sport and society.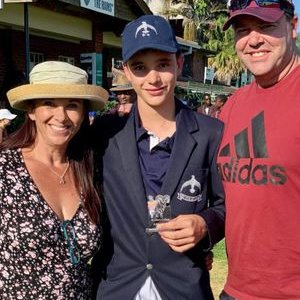 Heath Steak is a former cricketer who was also the captain of the Zimbabwe cricket team. Being the only player from his country to have taken 100 test wickets, Heath was indeed a legend. Recently, the news of his death went viral on social media, but soon after this news made waves on the internet, former cricketer and Heath's teammate, Henry Olonga, took to Twitter (now 'X') and shared the news that Heath Streak is alive!
The False News Business
The world is facing a huge problem of fake news being circulated online. Every media house, news channel, and marketing agency wants to break the news first, but no one cares if the information being passed on to the public is truly authentic or not. Addressing the much-asked question, "Where is Heath Streak now?" all we can say is he is still in the same world in which we are. 
First Lil Tay and Now Heath Steak
Following the recent event in which the fake news of Lil Tay's death was circulated around the internet, the same happened again. People have been searching for Heath Steak's death since morning. Is this the high time news verification should be made an important concern in the media world? 
Since you have read so far, let's forget the Heath Streak latest news that was false and break the stereotype of remembering legends only after their death. So, let's begin!
One Word for Heath Steak Stats – Glorious 
Heath Streak's cricketing career was studded with remarkable achievements. With a career spanning years of dedication, he etched his name in the annals of the sport. As a pace bowler, his ability to swing the ball both ways and consistently trouble batsmen made him an indispensable asset to the Zimbabwean cricket team. His statistics and records stand as a testament to his skill and dedication, serving as an inspiration to aspiring cricketers.
Heath Steak Farming Ventures – A Passion Beyond Cricket 
Beyond the cricket pitch, Streak displayed an equally fervent passion for farming. He ventured into agriculture, demonstrating his commitment to sustainability and land development. This unexpected pursuit showcased his versatility and willingness to explore diverse interests, a trait that endeared him to fans and peers alike.
Heath Steak Family & Wife – The Ones Behind the Man 
Behind every successful man is a strong woman, and Heath Streak's life was no exception. Heath Steak wife, Nadine Streak, whose unwavering support stood as a pillar of strength throughout his journey, deserves special mention. Together, they weathered challenges and celebrated victories, showcasing a bond that extended beyond the cricket field. If the news of Heath Steak illness is true, his family is the one who's backing him!
Heath Streak Net Worth 
Heath Streak's contributions extended beyond his prowess on the cricket pitch. His various endeavors, including coaching and commentary, added to his overall net worth. This diverse portfolio demonstrated his strategic thinking and adaptability, proving that his skills transcended the boundaries of cricket.
Conclusion
In the wake of Heath Streak's death news being fake, the cricketing community celebrates the life of a talented individual who contributed significantly to the sport and society. His journey, marked by accomplishments, challenges, and the pursuit of diverse passions, serves as a beacon of inspiration. So, let us reflect on the impact one person can make through dedication, perseverance, and a genuine love for what they do.