Biographies
Lifestyle
Nancy Pelosi Biography – Speaker of the United States House of Representatives
Nancy Patricia Pelosi is an American politician serving as speaker of the United States House of Representatives since 2019, and previously from 2007 to 2011. She has served as a U.S. representative from California since 1987.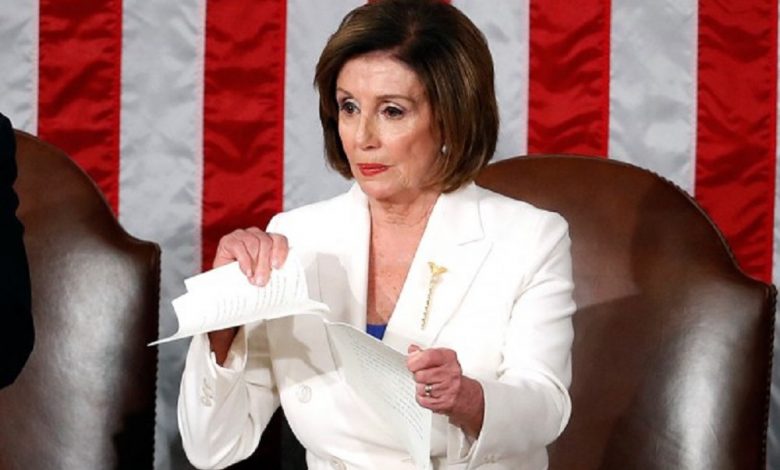 Quick Info→
Real Name:
Nancy Patricia Pelosi
Profession:
American politician
Birthplace:
Baltimore, Maryland, U.S.
Spouse:
Paul Pelosi
Age:
82
Nancy Patricia Pelosi (born March 26, 1940) is an American politician serving as speaker of the United States House of Representatives since 2019, from 2007 to 2011. She has served as a U.S. representative from California since 1987. A member of the Democratic Party, Pelosi is the only woman to have served as speaker of the U.S. House.
A member of the D'Alesandro political family, Pelosi's father, Thomas D'Alesandro Jr., was a notable longtime politician. Before her election to Congress, she chaired the California Democratic Party from 1981 until 1983. In her 18th term, Pelosi was first elected to Congress in a 1987 special election. She is the dean of California's congressional delegation. She represents California's 12th congressional district, which comprises most of San Francisco. Initially, Pelosi represented the 5th district (1987–1993); after district boundaries were redrawn following the 1990 census, she represented the 8th district (1993–2013). Pelosi has led the House Democrats since 2003. She is the first woman to lead a party in Congress and has served twice as House Minority Leader (2003–2007 and 2011–2019) and as House Speaker (2007–2011 and since 2019), respectively.
On January 3, 2021, Pelosi was reelected to a fourth term as Speaker of the House. During her second speakership, she was instrumental in the passage of the Biden administration's two major bills, the Infrastructure Investment, Jobs Act, and the American Rescue Plan Act. She announced in January 2022 that she would seek reelection as a U.S. representative that year, though she had pledged in 2018 not to seek the speakership again.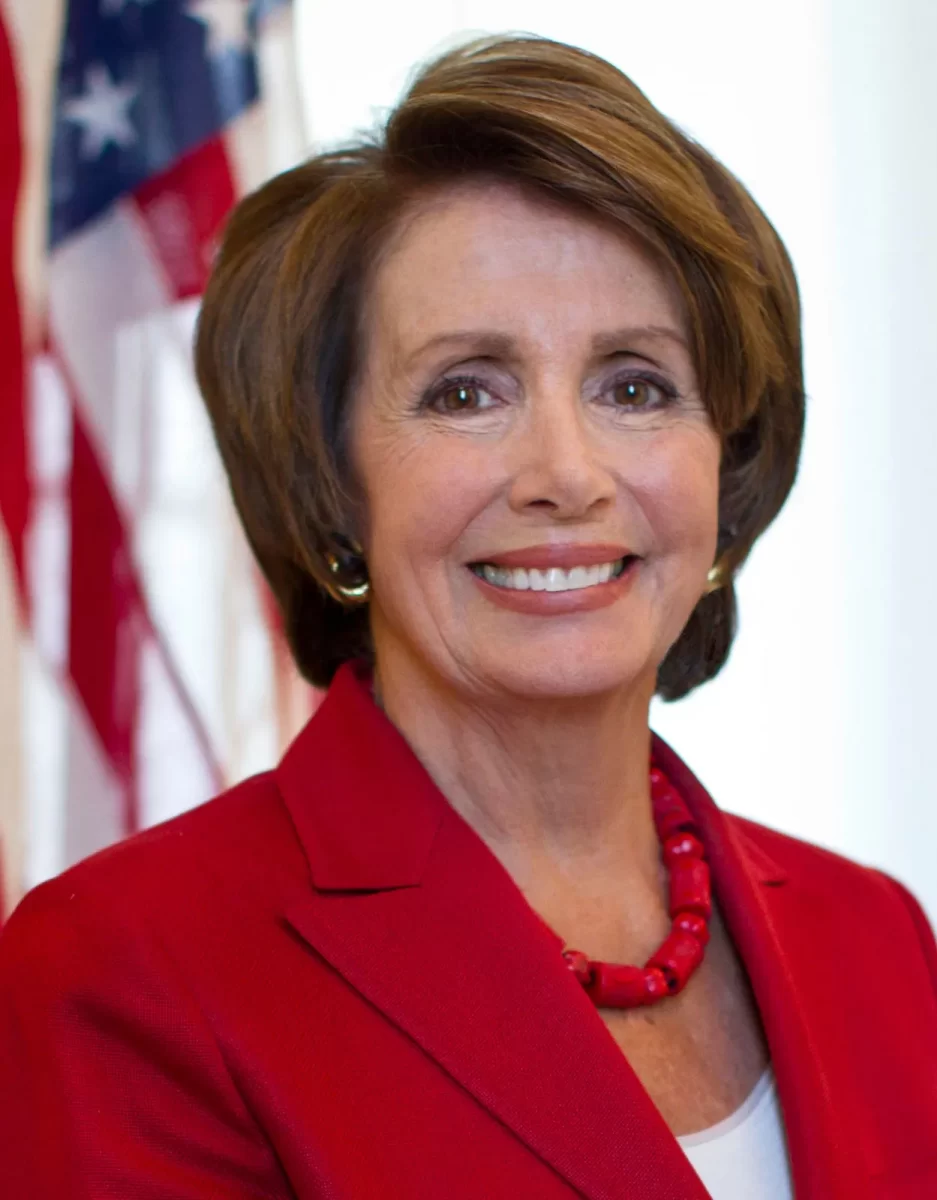 Nancy Pelosi Biography

52nd Speaker of the United States House of Representatives

Incumbent

Assumed office
January 3, 2019

Preceded by

Paul Ryan
In office
January 4, 2007 – January 3, 2011

Preceded by

Dennis Hastert

Succeeded by

John Boehner
House Minority Leader
In office
January 3, 2011 – January 3, 2019
Deputy
Steny Hoyer

Preceded by

John Boehner

Succeeded by

Kevin McCarthy
In office
January 3, 2003 – January 3, 2007
Deputy
Steny Hoyer

Preceded by

Dick Gephardt

Succeeded by

John Boehner
Leader of the House Democratic Caucus

Incumbent

Assumed office
January 3, 2003
Deputy

John Spratt
Xavier Becerra
Chris Van Hollen
Jim Clyburn
Ben Ray Luján
Katherine Clark

Preceded by

Dick Gephardt
Member of the
U.S. House of Representatives
from California

Incumbent

Assumed office
June 2, 1987

Preceded by

Sala Burton
Constituency

5th district

 (1987–1993)

8th district

 (1993–2013)

12th district

 (2013–present)

House Minority Whip
In office
January 15, 2002 – January 3, 2003
Leader
Dick Gephardt

Preceded by

David Bonior

Succeeded by

Steny Hoyer
Chair of the California Democratic Party
In office
February 27, 1981 – April 3, 1983

Preceded by

Richard J. O'Neill

Succeeded by

Peter Kelly
Personal details
Born

Nancy Patricia D'Alesandro

March 26, 1940 (age 82)
Baltimore, Maryland, U.S.

Political party
Democratic
Spouse(s)
Children
5, including Christine Pelosi and Alexandra Pelosi
Parent(s)

Thomas D'Alesandro Jr.
Annunciata Lombardi

Relatives
Thomas D'Alesandro III (brother)
Residence(s)
San Francisco, California, U.S.
Education
Trinity College (BA)
Signature
Website

House website

Speaker website
Early life and education (Nancy Pelosi Biography)
Pelosi was born in Baltimore to an Italian-American family. She was the only daughter and the youngest of seven children of Annunciata M. "Nancy" D'Alesandro (née Lombardi) and Thomas D'Alesandro Jr. Her mother was born in Fornelli, Isernia, Molise, in South Italy, and came to the U.S. in 1912; her father could trace his Italian ancestry to Genoa, Venice, and Abruzzo. When Nancy was born, her father was a Democratic congressman from Maryland. He became Mayor of Baltimore seven years later. Pelosi's mother was also active in politics, organizing Democratic women and teaching her daughter the value of social networking. Pelosi's brother, Thomas D'Alesandro III, also a Democrat, was Mayor of Baltimore from 1967 to 1971.
Pelosi was involved with politics from an early age. She helped her father at his campaign events. She attended John F. Kennedy's inaugural address when he was sworn in as president in January 1961.
In 1958, Pelosi graduated from the Institute of Notre Dame, an all-girls Catholic high school in Baltimore. In 1962, she graduated from Trinity College in Washington, D.C., with a Bachelor of Arts in political science. Pelosi interned for Senator Daniel Brewster (D-Maryland) in the 1960s alongside future House Majority Leader Steny Hoyer.
Early career (Nancy Pelosi Biography)
After moving to San Francisco, Pelosi became friends with 5th district congressman Phillip Burton and began working her way up in Democratic politics. In 1976, she was elected as a Democratic National Committee member from California, a position she would hold until 1996. She was elected as party chair for Northern California in January 1977 and, four years later, was selected to head the California Democratic Party, which she led until 1983. Subsequently, Pelosi served as the San Francisco Democratic National Convention Host Committee chairwoman in 1984 and then as Democratic Senatorial Campaign Committee finance chair from 1985 to 1986.
U.S. House of Representatives (Nancy Pelosi Biography)
Elections
Phillip Burton died in 1983 and was succeeded by his wife, Sala Burton, who won a special election in 1983. Sala Burton won two more elections (in 1984 and in 1986). In late 1986, Burton became ill with cancer and decided not to run for reelection in 1988. She picked Pelosi as her designated successor, guaranteeing her the support of the Burtons' contacts. Burton died on February 1, 1987, just a month after being sworn in for a second full term. Pelosi won the special election to succeed her, narrowly defeating Democratic San Francisco supervisor Harry Britt on April 7, 1987, and easily defeating Republican Harriet Ross in a June 2 runoff. Pelosi took office a week later.
For the 2000 and 2002 election cycles, she held the distinction of contributing the most money among members of Congress to other congressional campaigns.
Committee assignments
In the House, she served on the Appropriations and Intelligence Committees and was the ranking Democrat on the Intelligence Committee until her election as minority leader.
Pelosi is a member of the House Baltic Caucus.
Pre-speakership career
In March 1988, Pelosi voted in favor of the Civil Rights Restoration Act of 1987 (as well as to override President Ronald Reagan's veto).
In 2001, Pelosi was elected the House Minority Whip, second-in-command to Minority Leader Dick Gephardt of Missouri. She was the first woman in U.S. history to hold that post.
In 2002, after Gephardt resigned as Minority Leader to seek the Democratic nomination in the 2004 presidential election, Pelosi was elected to replace him, becoming the first woman to lead a major party in the House.
First speakership (2007–2011) (Nancy Pelosi Biography)
Nomination
In the 2006 midterm elections, the Democrats took control of the House, picking up 30 seats. The change in control meant as House Minority Leader Pelosi was widely expected to become Speaker of the House in the next Congress. On November 16, 2006, the Democratic caucus unanimously chose Pelosi as the Democratic candidate for Speaker.
Pelosi supported her longtime friend, John Murtha of Pennsylvania, for the position of House Majority leader, the second-ranking post in the House Democratic caucus. His competitor was House Minority Whip Steny Hoyer of Maryland, who had been Pelosi's second-in-command since 2003. Hoyer was elected as House majority leader over Murtha by a margin of 149–86 within the caucus.
She also said Iraq was the major issue facing the 110th Congress while incorporating some Democratic Party beliefs:
The election of 2006 was a call to change—not merely to change the control of Congress, but for a new direction for our country. Nowhere were the American people more clear about the need for a new direction than in Iraq. The American people rejected an open-ended obligation to a war without end.
Tenure
As Speaker, Pelosi was still the leader of the House Democrats; the Speaker is considered the leader of their House caucus. However, by tradition, she did not normally participate in debate and rarely voted on the floor, though she had every right to do so as a full House member. She was also not a member of any House committees.
Pelosi was reelected as Speaker in 2009.
During and after her first tenure as Speaker, Pelosi was perceived and/or characterized as a contentious political figure. Republican candidates frequently associated their Democratic opponents with her. At times, centrists, progressive candidates, and incumbent Democrats expressed opposition to her continued tenure.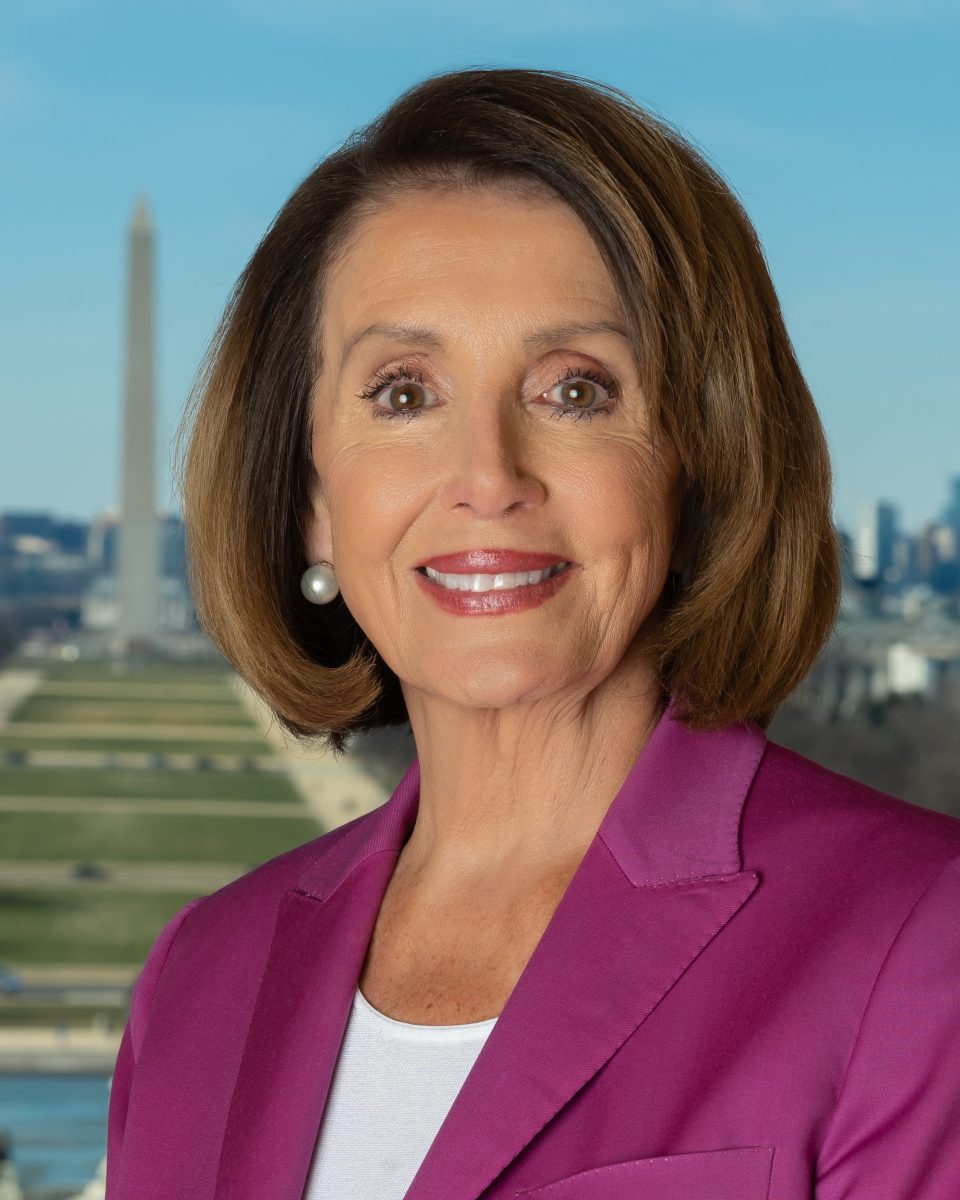 Social Security
Shortly after being reelected in 2004, President George W. Bush claimed a mandate for an ambitious second-term agenda and proposed reforming Social Security by allowing workers to redirect a portion of their Social Security withholding into stock and bond investments. Pelosi strongly opposed the plan, saying there was no crisis. As Minority Leader, she imposed intense party discipline on her caucus, leading them to near-unanimous opposition to the proposal, which was defeated.
Blocking of impeachment proceedings against President Bush
In the wake of Bush's 2004 reelection, several leading House Democrats believed they should pursue impeachment proceedings against him, asserting that he had misled Congress about weapons of mass destruction in Iraq and violated Americans' civil liberties by authorizing warrantless wiretaps.
In May 2006, with an eye on the upcoming congressional elections—which offered the possibility of Democrats taking back control of the House for the first time since 1994—Pelosi told colleagues that, while the Democrats would conduct vigorous oversight of Bush administration policy, an impeachment investigation was "off the table". A week earlier, she had told The Washington Post that, although Democrats would not set out to impeach Bush, "you never know where" investigations might lead.
After becoming Speaker in January 2007, Pelosi held firm against impeachment, notwithstanding strong support for it among her constituents. In the November 2008 election, she withstood a challenge for her seat by antiwar activist Cindy Sheehan, who ran as an independent primarily because of Pelosi's refusal to pursue impeachment.
The "Hundred Hours"
Before the 2006 midterm elections, Pelosi announced that if Democrats gained a House majority, they would push through most of their agenda during the first 100 hours of the 110th Congress.
The "first hundred hours" was a play on President Franklin D. Roosevelt's promise for quick action to combat the Great Depression during his "first hundred days" in office. Newt Gingrich, who became Speaker of the House in 1995, had a 100-day agenda to implement the Contract with America.
Opposition to Iraq War troop surge of 2007 (Nancy Pelosi Biography)
On January 5, 2007, reacting to suggestions from Bush's confidants that he would increase troop levels in Iraq (which he announced in a speech a few days later), Pelosi and Senate Majority Leader Harry Reid condemned the plan. They sent Bush a letter reading:
[T]here is no purely military solution in Iraq. There is only a political solution. Adding more combat troops will only endanger more Americans and stretch our military to the breaking point for no strategic gain.

 

… Rather than deploy additional forces to Iraq, we believe the way forward is to begin the phased redeployment of our forces in the next four to six months while shifting the principal mission of our forces there from combat to training, logistics, force protection, and counter-terror.
2008 Democratic National Convention
Pelosi was named Permanent Chair of the 2008 Democratic National Convention in Denver, Colorado.
Healthcare reform
Pelosi has been credited for spearheading Obama's health care law, the Affordable Care Act when it seemed doomed to defeat. After Republican Scott Brown won Democrat Ted Kennedy's former Senate seat in the January 2010 Massachusetts special election, costing Democrats their filibuster-proof majority, Obama agreed with his then chief of staff Rahm Emanuel's idea do smaller initiatives that could pass easily. But Pelosi dismissed Obama's compunction, mocking his scaled-back ideas as "kiddie care." After convincing him that this would be their only shot at health care reform because of the large Democratic majorities in Congress, she rallied her caucus as she began an "unbelievable marathon" of a two-month session to craft the bill which passed the House 219–212. Obama's remarks before signing the bill into law credited Pelosi as "one of the best Speakers the House of Representatives has ever had."
House minority leader (2011–2019) (Nancy Pelosi Biography)
112th and 113th Congress
Though Pelosi was reelected by a comfortable margin in the 2010 midterm elections, the Democrats lost 63 seats and control of the House of Representatives to the Republicans. After this setback, Pelosi sought to continue leading the House Democratic Caucus as a minority leader, the office she held before becoming Speaker. Disparate intraparty opposition failed to pass a motion to delay the leadership vote,  although she faced a challenge from conservative Democratic representative Heath Shuler from North Carolina. Shuler lost to Pelosi 150–43 in the caucus vote on November 17, 2010. On the opening day of the 112th Congress, Pelosi was elected minority leader.
On November 14, 2012, she announced she would remain the Democratic leader.
114th and 115th Congress
In August 2016, Pelosi said that her personal contact information had been posted online following a cyberattack against top Democratic campaign committees. She had received "obscene and sick calls, voice mails, and text messages." She warned members of Congress to avoid letting children or family members answer phone calls or read text messages.
In August 2018, Pelosi called for Duncan D. Hunter's resignation after his indictment on charges of misusing at least $250,000 in campaign funds, saying the charges were "evidence of the rampant culture of corruption among Republicans in Washington today."
Second speakership (2019–present) (Nancy Pelosi Biography)
In the 2018 midterm elections, the Democrats regained a majority in the House. On November 28, House Democrats nominated Pelosi to once again serve as Speaker. She was re-elected to the speakership at the start of the 116th Congress on January 3, 2019. Pelosi "clinched the speakership after weeks of whittling down opposition from some fellow Democrats seeking a new generation of leadership. The deal to win over holdouts put an expiration date on her tenure: she promised not to stay more than four years in the job". 220 House Democrats voted for Pelosi as Speaker and 15 for someone else or no one.
On February 4, 2020, after Trump's State of the Union address, Pelosi tore up her official copy. Her reason for doing so was "because it was a courteous thing to do considering the alternatives. It was such a dirty speech" Trump and other Republicans criticized her for this.
In December 2021, Pelosi announced her candidacy for reelection in 2022.
2018–2019 shutdown
At the start of the 116th Congress, Pelosi opposed Trump's attempts to use the 2018–2019 federal government shutdown (which she called a "hostage-taking" of civil servants) as leverage to build a substantial wall on the American border. She declined to allow Trump to give the State of the Union Address in the House of Representatives chamber while the ongoing shutdown. After several polls showed Trump's popularity sharply falling due to the shutdown, on January 25, 2019, Trump signed a stopgap bill to reopen the government without any concessions regarding a border wall for three weeks to allow negotiations on an appropriations bill. But he reiterated his demand for border wall funding. He said he would shut the government down again or declare a national emergency and use military funding to build the wall if Congress did not appropriate the funds by February 15.
On February 15, Trump declared a national emergency to bypass Congress after being unsatisfied with a bipartisan bill that had passed the House and Senate the day before.
Impeachments of President Trump
On September 29, 2019, Pelosi announced the launch of an impeachment inquiry against Trump. On December 5, 2019, after the inquiry had taken place, Pelosi authorized the Judiciary Committee to begin drafting articles of impeachment. After hearings were held, two articles of impeachment were announced on December 10. The House of Representatives approved both articles on December 18, formally impeaching Trump. On the eve of Trump's trial before the U.S. Senate, The Washington Post political writer Paul Kane called Pelosi the most powerful House Speaker in at least 25 years, noting that some historians were comparing her influence to that of former Speaker Sam Rayburn.
COVID-19 pandemic and response
Pelosi aided with the passage of the CARES Act. She attracted controversy when footage emerged in early September 2020 from visiting a hair salon in San Francisco. This was contrary to regulations enforced at that time preventing service indoors. Criticized for hypocrisy by Trump and the salon owners, Pelosi described the situation as "clearly a setup." Her stylist and other Democrats defended her.
Political positions (Nancy Pelosi Biography)
Pelosi was a founding member of the Congressional Progressive Caucus but left in 2003 after being elected House minority leader.
Civil liberties and human rights
In 2001, she voted in favor of the USA Patriot Act but against reauthorizing certain provisions in 2005. She voted against a Constitutional amendment banning flag-burning.
Immigration
Pelosi voted against the Secure Fence Act of 2006.
In June 2018, Pelosi visited a federal facility to detain migrant children separated from their parents and subsequently called for the resignation of Department of Homeland Security Secretary Kirstjen Nielsen. In July, Pelosi characterized the compromise immigration bill by the Republicans as a "deal with the devil" and said she had not had conversations with House Speaker Ryan about a legislative solution to separating families at the southern border.
In April 2021, after southern border crossings peaked, House Republicans criticized Pelosi for saying that immigration under the Biden administration was "on a good path." U.S. Customs and Border Protection reported that nearly 19,000 unaccompanied minors arrived in March.
LGBT rights
Pelosi has long supported LGBT rights. In 1996, she voted against the Defense of Marriage Act. In 2004 and 2006, she voted against the proposed Federal Marriage Amendment, which would amend the United States Constitution to define marriage federally as being between one man and one woman, thereby overriding states' individual rights to legalize same-sex marriage. When the Supreme Court of California overturned the state's ban on marriage between same-sex couples in 2008, Pelosi released a statement welcoming the "historic decision." She also indirectly voiced her opposition to California Proposition 8, a successful 2008 state ballot initiative that defined marriage in California as a union between one man and one woman.
Marijuana
Pelosi supports reform in marijuana laws, although NORML's deputy director Paul Armentano said she and other members of Congress had not done anything to change the laws. She also supports the use of medical marijuana.
PRISM
Pelosi supports the Bush/Obama NSA surveillance program PRISM.
Removal of Confederate monuments
As Speaker of the House, Pelosi quietly moved the statue of Robert E. Lee from the National Statuary Hall of the U.S. Capitol to the Capitol crypt. In Lee's place, she had a statue of Rosa Parks erected. In August 2017, Pelosi said she supported the removal of Confederate monuments and memorials from the Capitol Building.
Waterboarding
In 2002, while Pelosi was the ranking member of the House Intelligence Committee, she was briefed on the ongoing use of "enhanced interrogation techniques," including waterboarding, authorized for a captured terrorist, Abu Zubaydah. After the briefing, Pelosi said she "was assured by lawyers with the CIA and the Department of Justice that the methods were legal." Two unnamed former Bush administration officials say the briefing was detailed and graphic, and she did not raise substantial objections at the time. One unnamed U.S. official present during the early briefings said, "In fairness, the environment was different then because we were closer to September 11, and people were still in a panic. But there was no objecting, no hand-wringing. The attitude was, 'We don't care what you do to those guys as long as you get the information you need to protect the American people.'"
Economy (Nancy Pelosi Biography)
Fiscal policy
Pelosi voted against the 1995 Balanced Budget Proposed Constitutional Amendment, which passed the House by a 300–132 vote but fell two votes short of the 2/3 supermajority required in the Senate (with 65 senators voting in favor).
As Speaker of the House, she spearheaded the Fair Minimum Wage Act of 2007 as part of the 100-Hour Plan. The act raises the minimum wage in the United States and the territories of the Northern Marianas Islands and American Samoa. American Samoa was initially absent from the act but was included as part of HR 2206. One Republican congressman who voted against the initial bill accused Pelosi of unethically benefiting Del Monte Foods (headquartered in her district) by excluding the territory where Del Monte's StarKist Tuna brand is a major employer. Pelosi co-sponsored legislation that omitted American Samoa from a raise in the minimum wage as early as 1999, before Del Monte's acquisition of StarKist Tuna in 2002.
Infrastructure
In November 2018, Pelosi said she had spoken with Trump about infrastructure development. Though he "really didn't come through with it in his first two years in office," while it was a topic during his campaign, the subject had not been a partisan matter in Congress. She mentioned potential bipartisan legislative initiatives that would "create good paying jobs and generate other economic growth in their regions." On May 1, 2019, Pelosi and Schumer met with Trump about infrastructure funding. In late May, a meeting to discuss an impending $2 trillion infrastructure plan was cut short when Trump abruptly left after only a few minutes.
Disaster relief
In August 2018, after Trump signed an emergency declaration for federal aid in combating the Carr Fire in Northern California, Pelosi called the move "an important first step" but requested that Trump accedes to California Governor Jerry Brown's request for further aid to other hard-hit areas in California. She called on the Trump administration to take "real, urgent action to combat the threat of the climate crisis, which is making the wildfire season longer, more expensive, and more destructive."
Education
In 1999, Pelosi voted against displaying the Ten Commandments in public buildings, including schools. She voted for the No Child Left Behind Act, which instituted testing to track students' progress and authorized an increase in overall education spending.
Environment
In 2019, Pelosi said climate change was "the existential threat of our time" and called for action to curb it. She has supported the development of new technologies to reduce U.S. dependence on foreign oil and remediate the adverse environmental effects of burning fossil fuels. Pelosi has widely supported conservation programs and energy research appropriations. She has also voted to remove an amendment allowing oil and gas exploration in the Arctic National Wildlife Refuge.
Health care (Nancy Pelosi Biography)
Affordable Care Act
Pelosi was instrumental in passing the Patient Protection and Affordable Care Act of 2010. She was a key figure in convincing Obama to continue pushing for health-care reform after the election of Massachusetts Senator Scott Brown in a January special election—a defeat seen as potentially fatal to Democratic reform efforts. After delivering 219 votes in the House for Obama's health-care package, Pelosi was praised and heckled as she made her way to Capitol Hill.
Pelosi has voted to increase Medicare and Medicaid benefits. She does not endorse Senator Bernie Sanders's bill for single-payer healthcare.
Abortion
Pelosi voted against the Partial-Birth Abortion Ban Act of 2003 and earlier attempts at similar bans and voted against the criminalization of certain situations where a minor is transported across state lines for an abortion (HR 748, passed).
Contraception
On January 25, 2009, interview with George Stephanopoulos for ABC News, Pelosi said that one of the reasons she supported family planning services was that they would "reduce costs to states and to the federal government."
Security (Nancy Pelosi Biography)
Gun laws
Pelosi stands in favor of increased background checks for potential gun owners, as well as the banning of assault weapons. In February 2013, she called for the "Boldest possible move" on gun control, similar to a stance made just weeks earlier by former Representative, mass shooting victim, and fellow gun control advocate Gabby Giffords. In 2012, she was given a 0% rating by Gun Owners of America and a 7% rating from the National Rifle Association for her stances on gun control.
In November 2018, after the Thousand Oaks shooting, Pelosi released a statement saying Americans "deserve real action to end the daily epidemic of gun violence that is stealing the lives of our children on campuses, in places of worship and on our streets" and pledged that gun control would be a priority for House Democrats in the 116th United States Congress.
Military draft
Pelosi said she did not support Representative Charles Rangel's (D-NY) plan to introduce legislation that would reinstate the draft.
Use of government aircraft
In March 2009, the New York Post wrote that the conservative watchdog group Judicial Watch had obtained emails sent by Pelosi's staff requesting the United States Air Force (USAF) to provide specific aircraft—a Boeing 757—for Pelosi to use for taxpayer-funded travel. Pelosi responded that the policy was initiated by President Bush due to post-9/11 security concerns (Pelosi was third in line for presidential succession), and was initially provided for the previous Speaker Dennis Hastert. The Sergeant at Arms requested—for security reasons—that the plane provided be capable of non-stop flight, requiring a larger aircraft. The Pentagon said "no one has rendered judgment" that Pelosi's use of aircraft "is excessive".
Trump presidency
During Donald Trump's presidency, Pelosi voted in line with the president's stated position 17.6% of the time.
During a news conference on June 9, 2017, after a reporter asked her about tweets by President Donald Trump lambasting former FBI director James Comey following Comey's testimony to the Senate Intelligence Committee, Pelosi said no one at the White House seemed courageous enough to tell Trump his tweets were beneath the dignity of the presidency and that she was worried about his fitness for office. In November, when asked about Democrats beginning the impeachment process against Trump in the event they won a majority of seats in the 2018 elections, Pelosi said it would not be one of their legislative priorities but that the option could be considered if credible evidence appeared during the ongoing investigations into Russian interference in the 2016 election.
Biden presidency
As of January 2022, Pelosi had voted in line with Joe Biden's stated position 100% of the time.
Foreign affairs (Nancy Pelosi Biography)
China
Since the 1989 Tiananmen Square massacre, Pelosi has opposed expanding trade relationships with China until it improves its human rights record. In 1999, ahead of Chinese Premier Zhu Rongji's visit to the US for talks over World Trade Organization admission for China, Pelosi called on President Clinton and Vice President Gore to ask Zhu to recognize the 1989 protests as a pro-democracy effort.
On the eve of the 2022 Winter Olympics in Beijing, Pelosi advised American athletes to compete: "I would say to our athletes, 'You're there to compete. Do not risk incurring the anger of the Chinese government, because they are ruthless'".
Colombia
Pelosi publicly scolded Colombian president Álvaro Uribe during Uribe's May 2007 state visit to America. Pelosi met with Uribe and later released a statement that she and other members of Congress had "expressed growing concerns about the serious allegations" of links between paramilitary groups and Colombian government officials. Pelosi also came out against the Colombian free-trade agreement.
Cuba
In 2008, Pelosi said: "For years, I have opposed the embargo on Cuba. I don't think it's been successful, and I think we have to remove the travel bans and have more exchanges—people-to-people exchanges with Cuba." In 2015, Pelosi supported President Obama's Cuban Thaw, a rapprochement between the U.S. and Castro's regime in Cuba, and visited Havana for meetings with high-level officials.
First Gulf War
Pelosi opposed U.S. intervention in the 1991 Gulf War.
Iran
In an interview on February 15, 2007, Pelosi said that Bush consistently said he supports a diplomatic resolution to differences with Iran, "and I take him at his word." At the same time, she said, "I do believe that Congress should assert itself, though, and make it very clear that there is no previous authority for the president, any president, to go into Iran." On January 12, 2007, Congressman Walter B. Jones of North Carolina introduced a resolution requiring that—absent a national emergency created by an attack, or a demonstrably imminent attack, by Iran upon the United States or its armed forces—the president must consult with Congress and receive specific authorization before initiating any use of military force against Iran. Pelosi removed this resolution from a military spending bill for the war in Iraq on March 13, 2007.
Ukraine
On May 1, 2022, Pelosi met with President Volodymyr Zelenskyy in Kyiv to pledge U.S. support for Ukraine during the Russian invasion.
Electoral history
Pelosi's only close race so far has been in the special election to succeed U.S. Representative Sala Burton after her death in February 1987. Pelosi defeated San Francisco Supervisor Harry Britt in the Democratic primary with 36 percent of the vote to his 32 percent, then Republican Harriet Ross by more than 2-to-1. Since then, Pelosi has enjoyed overwhelming support in her political career, collecting 76 and 77 percent of the vote in California's 5th congressional district in 1988 and 1990. In 1992, after the redistricting from the 1990 Census, Pelosi ran in California's 8th congressional district, which now covered the San Francisco area. She has continued to post landslide victories since, dropping beneath 80 percent of the vote only three times.
Personal life (Nancy Pelosi Biography)
Nancy D'Alesandro met Paul Francis Pelosi while she was attending college. They married in Baltimore at the Cathedral of Mary Our Queen on September 7, 1963. They moved to New York after they wed, then to San Francisco in 1969, where Paul's brother Ronald Pelosi was a member of the City and County of San Francisco's Board of Supervisors.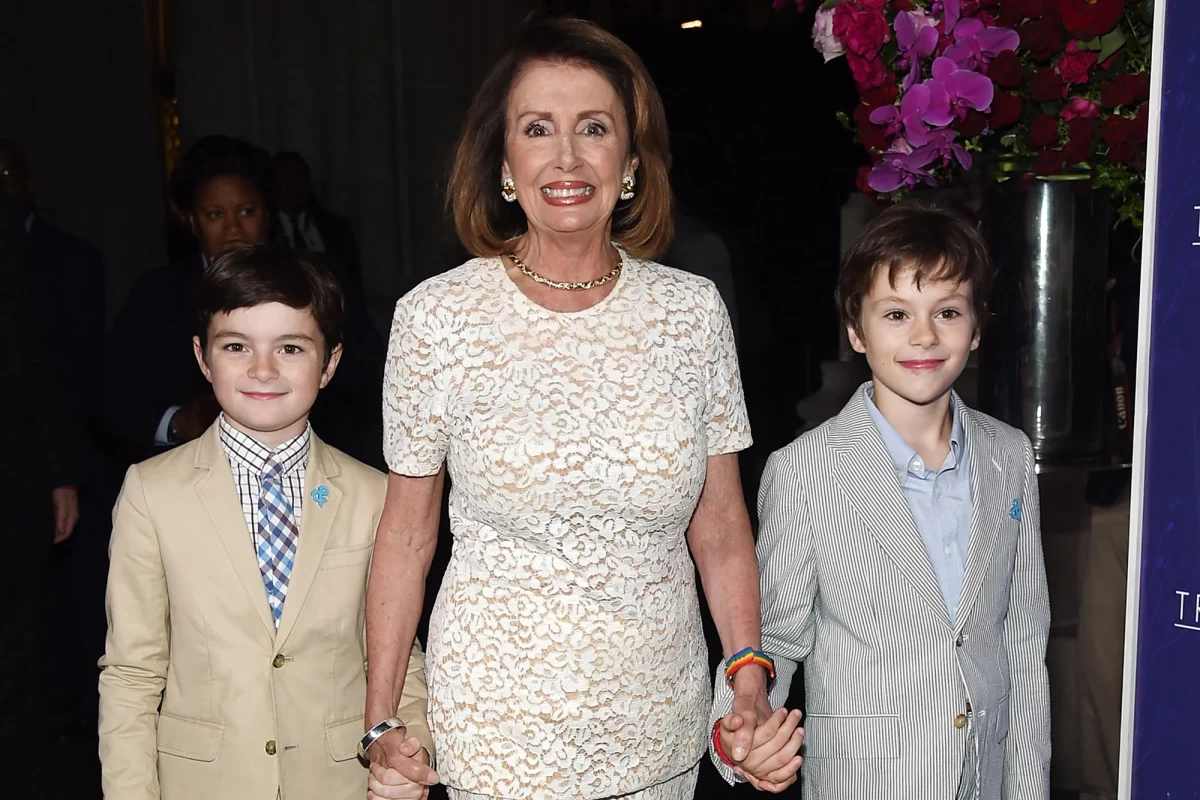 Nancy and Paul Pelosi have five children, including Christine and Alexandra, and nine grandchildren. Alexandra, a journalist, covered the Republican presidential campaigns in 2000 and made a film about Journeys with George's experience. In 2007, Christine published a book, Campaign Boot Camp: Basic Training for Future Leaders.
Pelosi resides in the Pacific Heights neighborhood of San Francisco. Her 2016 financial disclosure report lists among her assets a combined home and vineyard in St. Helena, California, two commercial buildings in San Francisco, and a townhouse in Loomis, California. In January 2021, her San Francisco home was vandalized with graffiti, and messages of "[c]ancel rent" were left on her garage, along with fake blood and a severed pig's head.
Financial status (Nancy Pelosi Biography)
The nonpartisan OpenSecrets estimated in 2009 that Pelosi's average net worth was approximately $58 million, ranking her 13th among the 25 wealthiest members of Congress. In 2014, OpenSecrets reported Pelosi's average net worth almost doubled to approximately $101 million, ranking her 8th out of the 25 wealthiest members of Congress. Business Insider reported that Pelosi's worth was $26.4 million in 2012, making her the 13th richest member of Congress. In 2014, Roll Call estimated that Pelosi's net worth was $29.35 million, ranking her the 15th wealthiest member of Congress.
Involvement in the Italian-American community
Pelosi is a board member of the National Organization of Italian American Women. She served for 13 years as a board member of the National Italian American Foundation (NIAF). In 2007, she received the NIAF Special Achievement Award for Public Advocacy and remains involved in the foundation.
Holy Communion
On May 20, 2022, the San Francisco Archbishop, Salvatore Cordileone, announced that Pelosi would be barred from receiving Holy Communion because of her support of pro-choice abortion policies. Cordileone communicated his concerns on April 7, 2022, writing, "should you not publicly repudiate your advocacy for abortion 'rights' or else refrain from referring to your Catholic faith in public and receiving Holy Communion, I would have no choice but to make a declaration, in keeping with Canon 915, that you are not to be admitted to Holy Communion."
On June 29, 2022, Pelosi received Communion at a Papal Mass presided over by Pope Francis in Rome at St. Peter's Basilica.
Honors and decorations (Nancy Pelosi Biography)
 Italy  Knight Grand Cross of the Order of Merit of the Italian Republic on June 2, 2007 (Officer on June 2, 2001).
 Japan  Grand Cordon of the Order of the Rising Sun on April 29, 2015.
 Ukraine  Third Class Order of Princess Olga on April 30, 2022.
In 2006, she was named Barbara Walters's Most Fascinating Person of the year.
In 2013, Pelosi was inducted into the National Women's Hall of Fame.
She has been listed numerous times on the Forbes list of the world's 100 most powerful women, ranking 11th in 2010, 26th in 2014, and 3rd in 2019.
She received the Foremother Award from National Center for Health Research in 2016.
She was granted an honorary Doctorate of Law degree by Mount Holyoke College on May 20, 2018.
She was an honoree at the 2019 VH1 Trailblazer Honors.
Pelosi was selected for the inaugural 2021 Forbes 50 Over 50, a list of notable entrepreneurs, leaders, scientists, and creators over age 50.