Cricket
On World Cup Last versus India, Australia Star Mitchell Starc's Flippant 'Pitch' Comment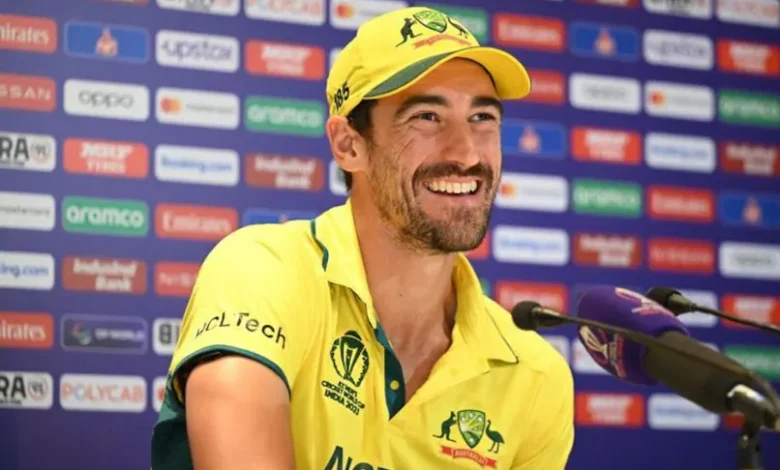 The Cricket World Cup semi-last saw a discussion just before the match among India and New Zealand, as allegations of the pitch being traded without a second to spare were made at the Leading body of Control for Cricket India. The match ended up being a high-scoring challenge, with India arising triumphant. The second semi-last likewise saw a pre-owned pitch being sent for the challenge among Australia and South Africa. After the Aussies dominated the match by the barest of edges, pacer Mitchell Starc had a shameless interpretation of the pitch for the last.
Australia didn't take a gander at their best pursuing a fair objective of 213 runs. They lost 7 wickets during the time spent the run-pursue. At the point when Starc was inquired as to whether he was worried about the last, taking into account the idea of the run-pursue against South Africa, he gave a somewhat brazen reaction
"I surmise we'll find out when we get to Ahmedabad tomorrow and check whether it's a new wicket or an old wicket," Starc said, in a shameless way.
In the question and answer session, Starc was likewise gotten some information about the idea of the try out at the Eden Nurseries.
"Definitely, it was clearly really uncovered wicket. I don't know whether it was marginally harder to begin with the bat due to being under covers for some measure of time, I don't know how long. We presumably saw it was incredibly, conflicting speed while it did most likely nip a smidgen, there was a tad of swing. I think the irregularities made it extreme to bat on with that initial 10 overs that we bowled. In this way, I think taking a gander at Josh's pitch map, that is the thing he truly does so well in Test match bowling. He was mind blowing today and the manner in which we run off one another to have that strategic maneuver that we did and bring some energy through the center was the way we need to begin coordinates so it was ideal to do it in a major event," he said.
When inquired as to whether it was a shock to have played on a pitch that truly didn't 'feature the one-day game' in a tourament that has seen such countless runs being scored in the association stage, Starc said that he is certainly not a specialist to understand pitches.
"Definitely, I'm positively not going to say I'm one to understand pitches and understand what they do. I mean preparation here the most recent couple of days, the training wicket unquestionably turned a great deal. From all reports I think the wicket we played on has been utilized a couple of times so nothing unexpected that it turned. Most likely a little astonishing that it seamed around a smidgen while I said before it was really conflicting speed wise, I think normal first inning scores here have been somewhat around 300 imprint or somewhat higher. No doubt somewhat astounding except for you know now and again it's ideal to see ball overwhelm bat in some cases," he affirmed.