Biographies
Lifestyle
Raquel Welch Biography – an American Actress and the Sex Symbol of Hollywood
Jo Raquel Welch was an American actress. She first won attention for her role in Fantastic Voyage, after which she won a contract with 20th Century Fox. They lent her contract to the British studio Hammer Film Productions, for whom she made One Million Years B.C.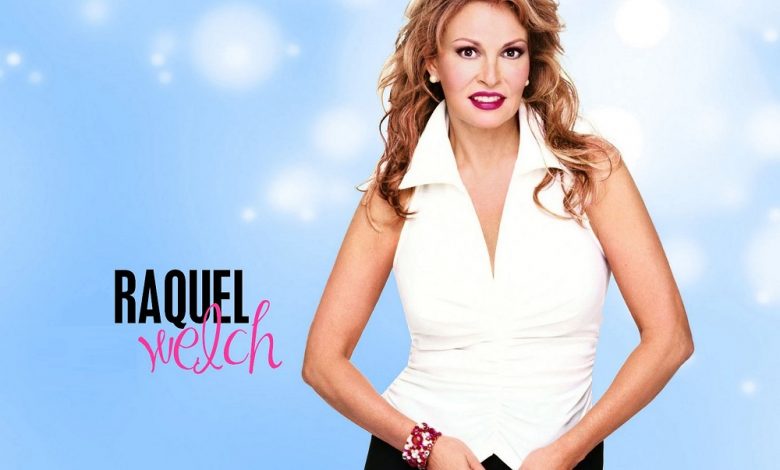 Quick Info→
Real Name:
Jo Raquel Welch
Profession:
American actress
Birthplace:
Chicago, Illinois, U.S.
Known As:
International Sex Symbol
Age:
82
Jo Raquel Welch (September 5, 1940 – February 15, 2023) was an American actress. She first won attention for her role in Fantastic Voyage (1966), after which she won a contract with 20th Century Fox. They lent her contract to the British studio Hammer Film Productions, for whom she made One Million Years B.C. (1966). Although Welch had only three lines of dialogue in the film, images of her in the doe-skin bikini became bestselling posters that turned her into an international sex symbol. She later starred in Bedazzled (1967), Bandolero! (1968), 100 Rifles (1969), Myra Breckinridge (1970), and Hannie Caulder (1971). She made several television variety specials.
Through her portrayal of strong female characters, which helped in her breaking the mold of the traditional sex symbol, Welch developed a unique film persona that made her an icon of the 1960s and 1970s. Her rise to stardom in the mid-1960s was partly credited with ending Hollywood's vigorous promotion of the blonde bombshell. She won a Golden Globe Award for Best Motion Picture Actress in a Musical or Comedy in 1974 for her performance in The Three Musketeers. She was also nominated for a Golden Globe Award for Best Actress in Television Film for her performance in the film Right to Die (1987). In 1995, Welch was chosen by Empire magazine as one of the "100 Sexiest Stars in Film History". Playboy ranked Welch No. 3 on their "100 Sexiest Stars of the Twentieth Century" list.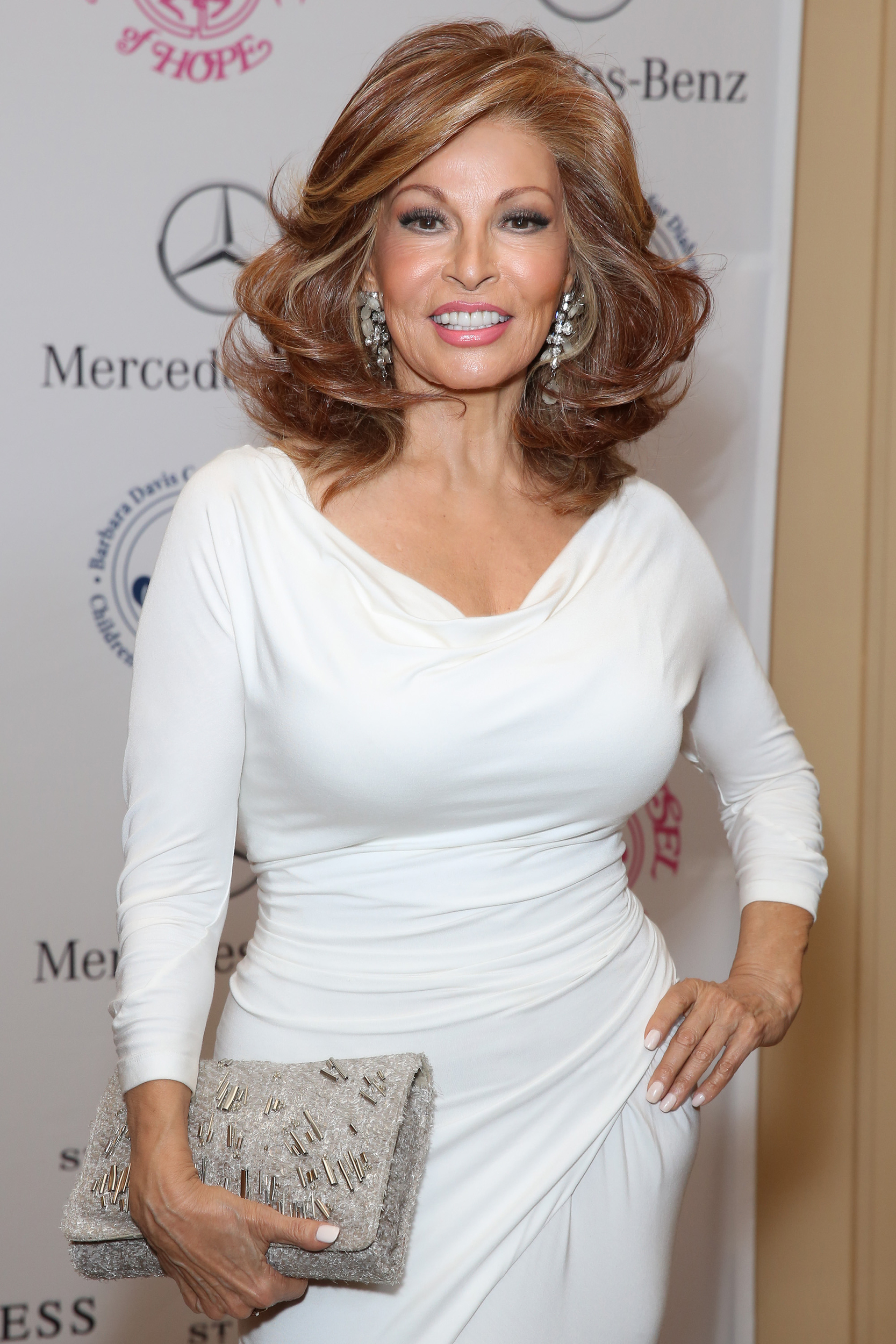 Raquel Welch Biography

Born

Jo Raquel Tejada

September 5, 1940

Chicago, Illinois, U.S.

Died
February 15, 2023 (aged 82)
Occupation
Actress
Years active
1958–2018
Spouses

James Welch

(

m.

 1959; 

div.

 1964)

​

Patrick Curtis

(

m.

 1967; 

div.

 1972)

​

André Weinfeld

(

m.

 1980; 

div.

 1990)

​

Richard Palmer

(

m.

 1999; 

div.

 2004)

​

Children
2, including Tahnee Welch
Early life (Raquel Welch Biography)
Welch was born Jo Raquel Tejada on September 5, 1940, in Chicago, Illinois. She was the first child of Armando Carlos Tejada Urquizo and Josephine Sarah Hall. Her father, Armando Tejada, was an aeronautical engineer from La Paz, Bolivia, the son of Agustin Tejada and Raquel Urquizo. In 2010, while she was being interviewed on the talk show Tavis Smiley, Welch stated, "My father came from a country called Bolivia. He was of Spanish descent." Her cousin, Bolivian politician Lidia Gueiler Tejada, became the first female President of Bolivia and the second female non-royal head of state in the Americas. Welch was named after her paternal grandmother. Her mother, Josephine Hall, was the daughter of architect Emery Stanford Hall and his wife Clara Louise Adams; she was of English ancestry. Welch had a younger brother, James "Jim" Tejada, and a younger sister, Gayle Tejada.
In 1960, Welch got a job as a weather presenter at KFMB, a local San Diego television station. Because her family life and television duties were so demanding she decided to give up her drama classes. After her separation from James Welch, she moved with her two children to Dallas, where she made a "precarious living" as a model for Neiman Marcus and as a cocktail waitress.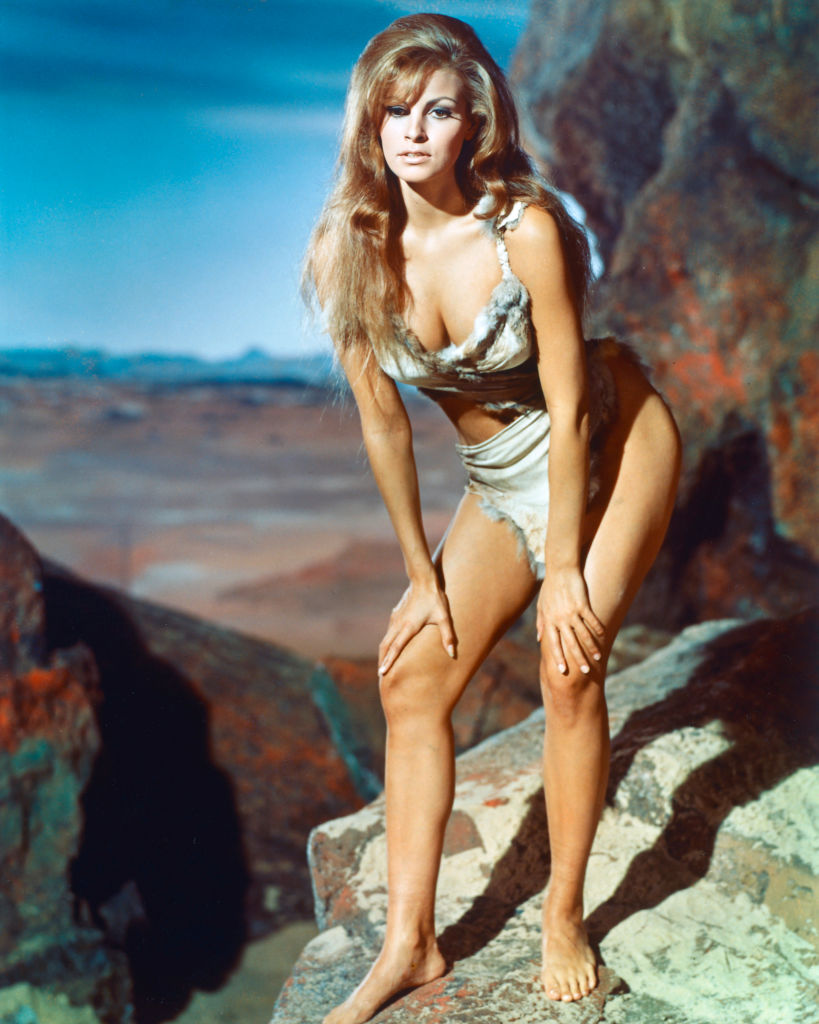 Career
1963–1966: Early works and breakthrough
Welch initially intended to move to New York City from Dallas, but moved back to Los Angeles in 1963 and started applying for roles with film studios. During this period of time, she met one-time child actor and Hollywood agent Patrick Curtis who became her personal and business manager. They developed a plan to turn Welch into a sex symbol. To avoid typecasting as a Latina, he convinced her to use her husband's last name.
She was cast in small roles in two films, A House Is Not a Home (1964) and the musical Roustabout (1964), an Elvis Presley film. She also landed small roles on the television series Bewitched, McHale's Navy, and The Virginian and appeared on the weekly variety series The Hollywood Palace as a billboard girl and presenter. She was one of many actresses who auditioned for the role of Mary Ann Summers on the television series Gilligan's Island.
In 1966, Welch starred with Marcello Mastroianni in the Italian film Shoot Loud, Louder… I Don't Understand for Joe E. Levine. The same year, she appeared in the film Sex Quartet as Elena in the segment "Fata Elena". She was the only American in the cast of the anthology film The Oldest Profession (1967); her segment was directed by Michael Pfleghar. In Italy, she also appeared in a heist film for MGM, The Biggest Bundle of Them All (1968). It co-starred Edward G. Robinson who said of Welch, "I must say she has quite a body. She has been the product of a good publicity campaign. I hope she lives up to it because a body will only take you so far."
1967–1979: International stardom
Her first starring vehicle, the British Modesty Blaise-style spy film Fathom (1967), was filmed in Spain for 20th Century Fox. Second unit director Peter Medak said Welch "was at that time quite inexperienced, exactly like one of those American drum majorettes. But she tried very hard and went to see the rushes each day, gradually improving. 'Who's this dumb broad?' people used to say. But I said: 'You wait. I'll bet she makes it.' I liked her very much because she was such a genuine person. And she had a beautiful body which always helps." Welch said her role was "a blown up Barbie doll". Reviewing her performance, the Los Angeles Times film critic said that "each new Raquel Welch picture brings further proof that when Maria Montez died they didn't break the mold. Like Maria, Raquel can't act from here to there, but both ladies seem to have been born to be photographed … this sappiest of spy pictures."
In 1972, Welch acted in Kansas City Bomber and had a cameo in Bluebeard. In Kansas City Bomber Welch played a hardened roller derby star and single mother who tries to balance her desire for a happy personal life and her dreams of stardom. Life dubbed Welch the "hottest thing on wheels" for her role. The production of the film shut down for six weeks after Welch broke her wrist doing some of her own stunts. In the interim, she flew to Budapest and filmed a cameo in Bluebeard opposite Richard Burton. Although Kansas City Bomber was not considered a critical success, it vividly depicted gender relations in the early 1970s. In a 2012 interview, Welch reflected on the roller derby world depicted in the film: "You have all those women out there, but the men in the front office are really running it. Which I thought was a really nice metaphor for the way a lot of women felt about their lives at that time."
In 1973, Welch acted in The Last of Sheila and The Three Musketeers.
In 1974, Welch acted in The Four Musketeers.
In 1975, Welch acted in The Wild Party. That year in an interview, Welch said she thought she had been "good" in Kansas City Bomber, Myra Breckenridge, and The Last of Sheila "but being good in a bad movie doesn't do anything for your career." Also that year she sang "I'm a Woman," a duet with Cher, in the second episode of The Cher Show (original airdate 02/16/75).
In 1977, Welch acted in Animal, filmed in France with Jean-Paul Belmondo. That year, she also starred in the British swashbuckling adventure The Prince and the Pauper.
In 1978, Welch appeared in an episode of The Muppet Show.
In 1979, for the series Mork & Mindy, Welch was featured as an alien bounty hunter pursuing Robin Williams in "Mork vs. the Necrotons".
1980–2023: Subsequent projects and later years
In 1981 she starred on Broadway in Woman of the Year, receiving praise for following Lauren Bacall in the title role.
In 1982, Welch acted in the Western television film The Legend of Walks Far Woman. Around this time, along with Elizabeth Taylor and Sophia Loren, Welch was among the candidates considered for the role of Alexis Carrington on the ABC prime-time drama Dynasty which began in 1981, before the producers settled on Joan Collins.
She was due to star in a 1982 adaptation of John Steinbeck's Cannery Row but was abruptly fired by the producers a few weeks into production. The studio claimed she was not living up to her contract, by refusing early-morning rehearsals, and was replaced with Debra Winger. Welch sued MGM for breach of contract. Studio executives claimed in testimony the reason Welch was following through with the trial was that she was an actress over 40 and generally actresses in that age range cannot get roles anymore. Welch's evidence at trial proved there was a conspiracy to falsely blame her for the film's budget problems and delays. The jury sided with Welch and she won a $10.8 million verdict against MGM in 1986.
In 1997, Welch starred on Broadway in Victor/Victoria, following Julie Andrews and Liza Minnelli in the title role. That year, she also acted in an episode of the comedy series Seinfeld, entitled "The Summer of George", Welch played a highly temperamental version of herself, assaulting series characters Kramer and Elaine, the former because he fired her from an acting job and the latter because Welch mistakenly thought Elaine was mocking her.
In 2001, she had supporting roles in the comedy films Legally Blonde opposite Reese Witherspoon and Tortilla Soup. In 2002, she starred in the PBS series American Family, a story about a Mexican American family in East Los Angeles. Her next film was Forget About It (2006). She also appeared in Welcome to The Captain, which premiered on CBS television on February 4, 2008. In 2015 she played a role in The Ultimate Legacy.
Most recently Welch appeared in a sitcom titled Date My Dad (2017) where she reunited with Robert Wagner on screen, four decades after starring together in The Biggest Bundle of Them All. She acted in How to Be a Latin Lover (2017).
Singing career (Raquel Welch Biography)
For many years, Welch performed in a successful one-woman nightclub musical act in Las Vegas.
Achievements and awards
In 1974, Welch won a Golden Globe Award for Best Motion Picture Actress in a Musical or Comedy for The Three Musketeers. She was also nominated for a Golden Globe Award for her performance in the television drama Right to Die (1987). In 1994, Welch received a star on the Hollywood Walk of Fame at 7021 [Hollywood Boulevard]. In 2001, she was awarded the Imagen Foundation Lifetime Achievement Award for her positive promotion of Americans of Latin heritage throughout her career. In 2012, the Film Society of Lincoln Center presented a special retrospective of its films of Welch at the Walter Reade Theater.
Beauty and business career
The Raquel Welch Total Beauty and Fitness Program book and videos were first released in 1984. The book, written by Welch with photographs by André Weinfeld, includes a hatha yoga fitness program, her views on healthy living and nutrition, as well as beauty and personal style. The Multi-Platinum collection of Fitness and Yoga videos was produced and directed by André Weinfeld. As a businesswoman, Welch succeeded with her signature line of wigs. She also began a jewelry and skincare line, although neither of those ventures compared to the success of her wig collection HAIRuWEAR.
In January 2007, Welch was selected as the newest face of the MAC Cosmetics Beauty Icon series. Her line features several limited-edition makeup shades in glossy black and tiger-print packaging. The tiger print motif of the collection celebrates Welch's feline and sensuous image: "strong and wild, yet sultry and exotic".
Personal life (Raquel Welch Biography)
Welch married her high school sweetheart, James Welch, on May 8, 1959, with whom she had two children, Damon Welch (born November 6, 1959) and Latanne "Tahnee" Welch (born December 26, 1961). James and Raquel Welch separated in 1962 and divorced in 1964; she retained Welch's last name until her death.
She married producer Patrick Curtis in 1967 and divorced him in 1972. In 1980, she married producer André Weinfeld, divorcing him in 1990. Welch wed Richard Palmer, owner of Mulberry Street Pizzeria, in 1999 but then separated from him in 2003 and later divorced. Welch said she would not remarry.
Welch posed for Playboy in 1979, but she never did a fully nude shoot. Hugh Hefner later wrote, "Raquel Welch, one of the last of the classic sex symbols, came from the era when you could be considered the sexiest woman in the world without taking your clothes off. She declined to do complete nudity, and I yielded gracefully. The pictures prove her point." Welch refused to take all her clothes off on screen or pose naked throughout her career spanning five decades, saying this was the way she was brought up. Tahnee followed her mother's December 1979 example and appeared on the cover of Playboy in the November 1995 issue and in a nude pictorial inside it.
While her image in the 1960s was that of a torrid sex temptress, Welch's private life was quite different. Welch once famously said, "What I do on the screen is not to be equated with what I do in my private life. Privately, I am understated and dislike any hoopla." She also admitted, "I was not brought up to be a sex symbol, nor is it in my nature to be one. The fact that I became one is probably the loveliest, most glamorous, and fortunate misunderstanding."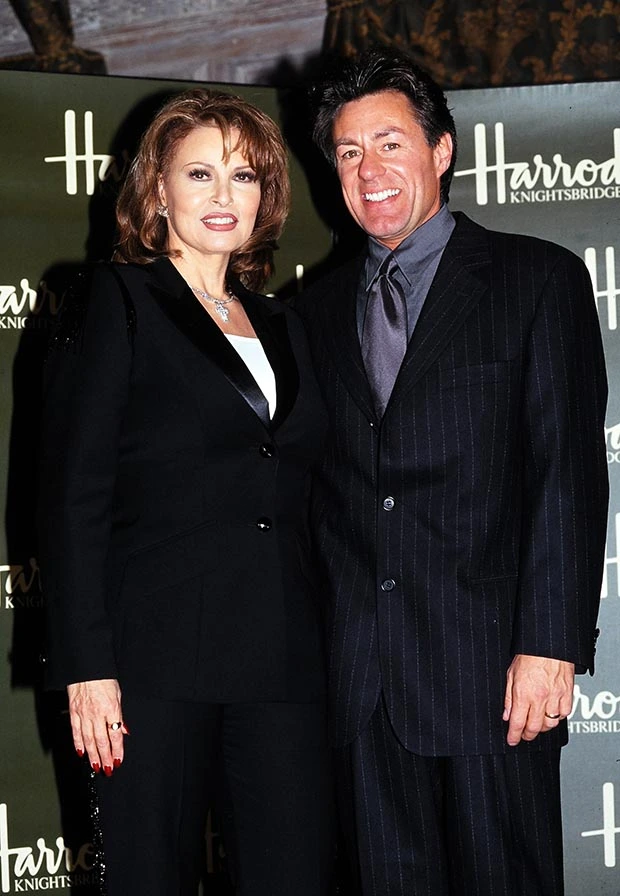 Political views
In 2014, during an appearance on The O'Reilly Factor, Welch described herself as being on the conservative side, attributing it to her mother's Midwestern values. During the Vietnam War, Welch showed her support for the troops at United Service Organizations (USO) shows often appearing with Bob Hope.
Death (Raquel Welch Biography)
Welch died on February 15, 2023, at her home in Los Angeles, following a brief illness. She was 82.
Legacy
Welch helped transform America's feminine ideal into its current state. Her beautiful looks and eroticism made her the definitive 1960s and 1970s sex icon, rather than the blonde bombshell of the late 1950s as typified by Marilyn Monroe, Jayne Mansfield, and others. Welch became a star in the mid-1960s and was an exotic, brunette, and smolderingly sexual. Her countless publicity photos helped to popularize her image, dress style, and 1960s and 1970s fashion trends. Welch and other actresses also made big hair popular.
In popular culture
Welch was mentioned in a couple of Monty Python's Flying Circus episodes.
Welch is mentioned in the 1971 song, "One's on the Way" by country music legend Loretta Lynn. Welch is also mentioned in "Unknown Stuntman", the theme song to The Fall Guy, starring Lee Majors, who also recorded the song. She is also mentioned in the Al Jarreau song "Love Is Real" from the Grammy-winning 1980 album This Time, where Jarreau sings "Raquel and Redford are the tops".
In the 1994 film The Shawshank Redemption, the poster that Andy Dufresne had on his prison cell wall at the time of his escape was the famous pinup image of Welch in One Million Years B.C. Prior to Dufresne's escape being realized, the warden refers to Welch as "Miss Fuzzy Britches".
Filmography (Raquel Welch Biography)
Film
Year
Title
Role
Notes
1964
A House Is Not a Home
Call Girl
Roustabout
College Girl
Uncredited
1965
A Swingin' Summer
Jeri
Do Not Disturb
Woman in Lobby
Uncredited
1966
Fantastic Voyage
Cora Peterson
The first film under contract to 20th Century Fox
Shoot Loud, Louder… I Don't Understand
Tania Montini
Made in Italy for Joseph E. Levine
Sex Quartet
Elena
Segment: "Fata Elena"
Also known as The Queens
One Million Years B.C.
Loana
1967
The Oldest Profession
Nini
Segment: "The Gay Nineties"
Fathom
Fathom Harvill
Bedazzled
Lust / Lilian Lust
1968
The Biggest Bundle of Them All
Juliana
Bandolero!
Maria Stoner
Lady in Cement
Kit Forrester
1969
100 Rifles
Sarita
Flareup
Michele
The Magic Christian
Priestess of the Whip
1970
Myra Breckinridge
Myra Breckinridge
The Beloved
Elena
Also known as Sin
1971
Hannie Caulder
Hannie Caulder
1972
Fuzz
Det. Eileen McHenry
Kansas City Bomber
K.C. Carr
Bluebeard
Magdalena
1973
The Last of Sheila
Alice Wood
The Three Musketeers
Constance Bonacieux
Golden Globe Award for Best Actress in a Motion Picture – Musical or Comedy
1974
The Four Musketeers
Constance Bonacieux
1975
The Wild Party
Queenie
1976
Mother, Jugs & Speed
Jennifer a.k.a. "Jugs"
1977
The Prince and the Pauper
Lady Edith
Also known as Crossed Swords
Animal
Jane Gardner
Also known as Stuntwoman
1994
Naked Gun 33

+

1

⁄

3

: The Final Insult
Herself
Uncredited
1998
Chairman of the Board
Grace Kosik
Nominated: Golden Raspberry Award for Worst Supporting Actress
What I Did for Love
Jacqueline
1999
Get Bruce
Herself
Documentary
2001
Legally Blonde
Mrs. Windham-Vandermark
Tortilla Soup
Hortensia
2006
Forget About It
Christine DeLee
2017
How to Be a Latin Lover
Celeste Birch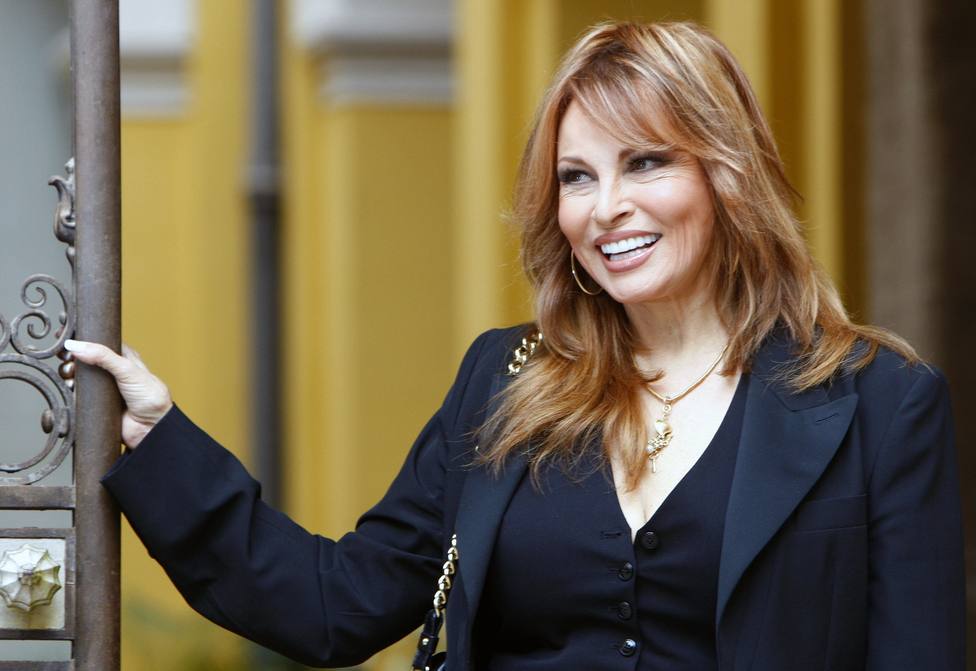 Television (Raquel Welch Biography)
Year
Title
Role
Notes
1964–1965
The Hollywood Palace
Billboard Girl
Season one regular
1964
The Virginian
Saloon Girl
Episode: "Ryker"
McHale's Navy
Lt. Wilson
Episode: "McHale, the Desk Commando"
Bewitched
Stewardess
Episode: "Witch or Wife"
The Rogues
Miss France
Episode: "Hugger-Mugger, by the Sea"
1965
Wendy and Me
Lila Harrison
Episode: "Wendy Sails in the Sunset"
The Baileys of Balboa
Beverly
Episode: "Sam's Nephew"
1970
Raquel!
Herself
Television Special
1971
Rowan & Martin's Laugh-In
Guest Performer
Episode: "#5.1"
1974
Really, Raquel
Herself
Television Special
1976
Saturday Night Live
Host
Episode: "Raquel Welch/Phoebe Snow/John Sebastian"
Also known as NBC's Saturday Night
1978
The Muppet Show
Herself
Episode: "Raquel Welch"
1979
Mork & Mindy
Captain Nirvana
Episode: "Mork vs. the Necrotons"
1980
From Raquel with Love
Herself
Television Special
1982
The Legend of Walks Far Woman
Walks Far Woman
Television film
Bronze Wrangler for Fictional Television Drama
1987
Right to Die
Emily Bauer
Television film
Nominated: Golden Globe Award for Best Actress – Miniseries or Television Film
1988
Scandal in a Small Town
Leda Beth Vincent
Television film
1989
Trouble in Paradise
Rachel
1993
Tainted Blood
Elizabeth Hayes
Torch Song
Paula Eastman
Evening Shade
Cynthia Gibson
Episode: "Small Town Girl"
Hollyrock-a-Bye Baby
Shelly Millstone
Voice, a television special
1995
Lois & Clark: The New Adventures of Superman
Diana Stride
Episode: "Top Copy"
1995
Happily Ever After: Fairy Tales for Every Child
La Madrasta
Voice, episode: "Cinderella"
1996
Central Park West
Dianna Brock
Season 2 Regular
Also known as CPW
Sabrina the Teenage Witch
Aunt Vesta
Episode: "Third Aunt from the Sun"
1997
Seinfeld
Herself
Episode: "The Summer of George"
1997–2000
Spin City
Abby Lassiter
3 episode
2002
American Family
Aunt Dora
Season 1 semi-regular
Jim Brown: All-American
Herself
Documentary
2004
8 Simple Rules
Jackie
Episode: "Vanity Unfair"
2008
Welcome to The Captain
Charlene Van Ark
Series regular
2012
CSI: Miami
Vina Navarro
Episode: "Rest in Pieces"
2013
House of Versace
Aunt Lucia
Television film
2015
The Ultimate Legacy
Miss Sally May Anderson
2017
Date My Dad
Rosa
Stage
Year
Title
Role
Notes
1973–1974
Raquel and the World of Sid and Marty Krofft
Herself
Las Vegas Hilton
Adapted into the television special Really Raquel
1981–1983
Woman of the Year
Tess Harding
Palace Theatre
1995
The Millionairess
Epifania Ognisanti di Parerga
Alexandra Theatre
1997
Victor/Victoria
Victoria Grant/Victor Grazinski
Marquis Theatre
Discography (Raquel Welch Biography)
Album appearances
| Year | Title | Album |
| --- | --- | --- |
| 1965 | "I'm Ready to Groove" | A Swingin' Summer: Music from the Original Motion Picture Soundtrack |
Singles
Year
Title
Peak chart positions
US Dance
1987
"This Girl's Back in Town"
29
Books
Raquel Welch: Raquel: The Raquel Welch Total Beauty and Fitness Program, Publisher: Henry Holt and Company (October 1, 1984),
Raquel Welch: Raquel: Beyond the Cleavage, Publisher: Weinstein Books (March 29, 2010).