Biographies
Lifestyle
Angelina Jolie Biography – A Hollywood's highest-paid actress multiple times
Angelina Jolie DCMG is an American actress, filmmaker, and humanitarian. The recipient of numerous accolades, including an Academy Award and three Golden Globe Awards, she has been named Hollywood's highest-paid actress multiple times.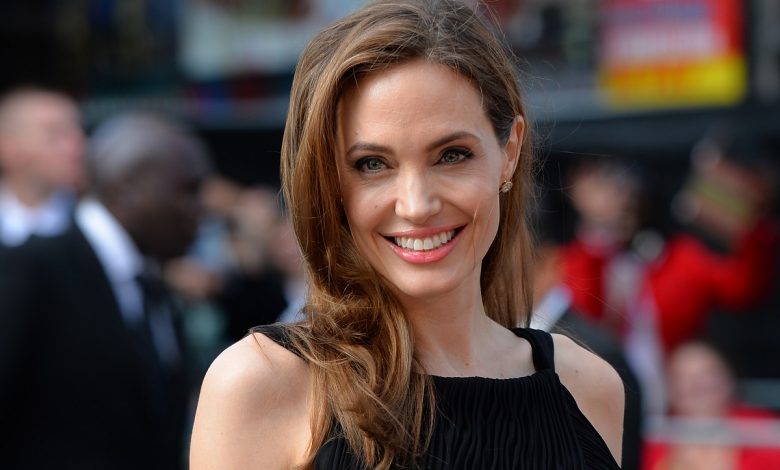 Quick Info→
Real Name:
Angelina Jolie Voight
Profession:
American actress, filmmaker, and humanitarian
Birthplace:
Los Angeles, California, U.S.
Partner:
Brad Pitt
Age:
47
Angelina Jolie DCMG (born Angelina Jolie Voight; June 4, 1975) is an American actress, filmmaker, and humanitarian. She has been named Hollywood's highest-paid actress multiple times and has received numerous accolades, including an Academy Award and three Golden Globe Awards.
Jolie made her screen debut as a child alongside her father, Jon Voight, in Lookin' to Get Out (1982), and her film career began in earnest a decade later with the low-budget production Cyborg 2 (1993), followed by her first leading role in a major film, Hackers (1995). She starred in the critically acclaimed biographical cable films George Wallace (1997) and Gia (1998), and won an Academy Award for Best Supporting Actress for her performance in the 1999 drama Girl, Interrupted. Her starring role as the video game heroine Lara Croft in Lara Croft: Tomb Raider (2001) established her as a leading Hollywood actress. She continued her action-star career with Mr. & Mrs. Smith (2005), Wanted (2008), Salt (2010), and The Tourist (2010), and received critical acclaim for her performances in the dramas A Mighty Heart (2007) and Changeling (2008), the latter of which earned her a nomination for an Academy Award for Best Actress. Her biggest commercial success came with the fantasy picture Maleficent (2014). She is also known for her voice role in the animation film series Kung Fu Panda (2008–present). Jolie has also directed and written several war dramas, namely In the Land of Blood and Honey (2011), Unbroken (2014), and First They Killed My Father (2017). In 2021, Jolie portrayed Thena in the Marvel Cinematic Universe superhero film Eternals.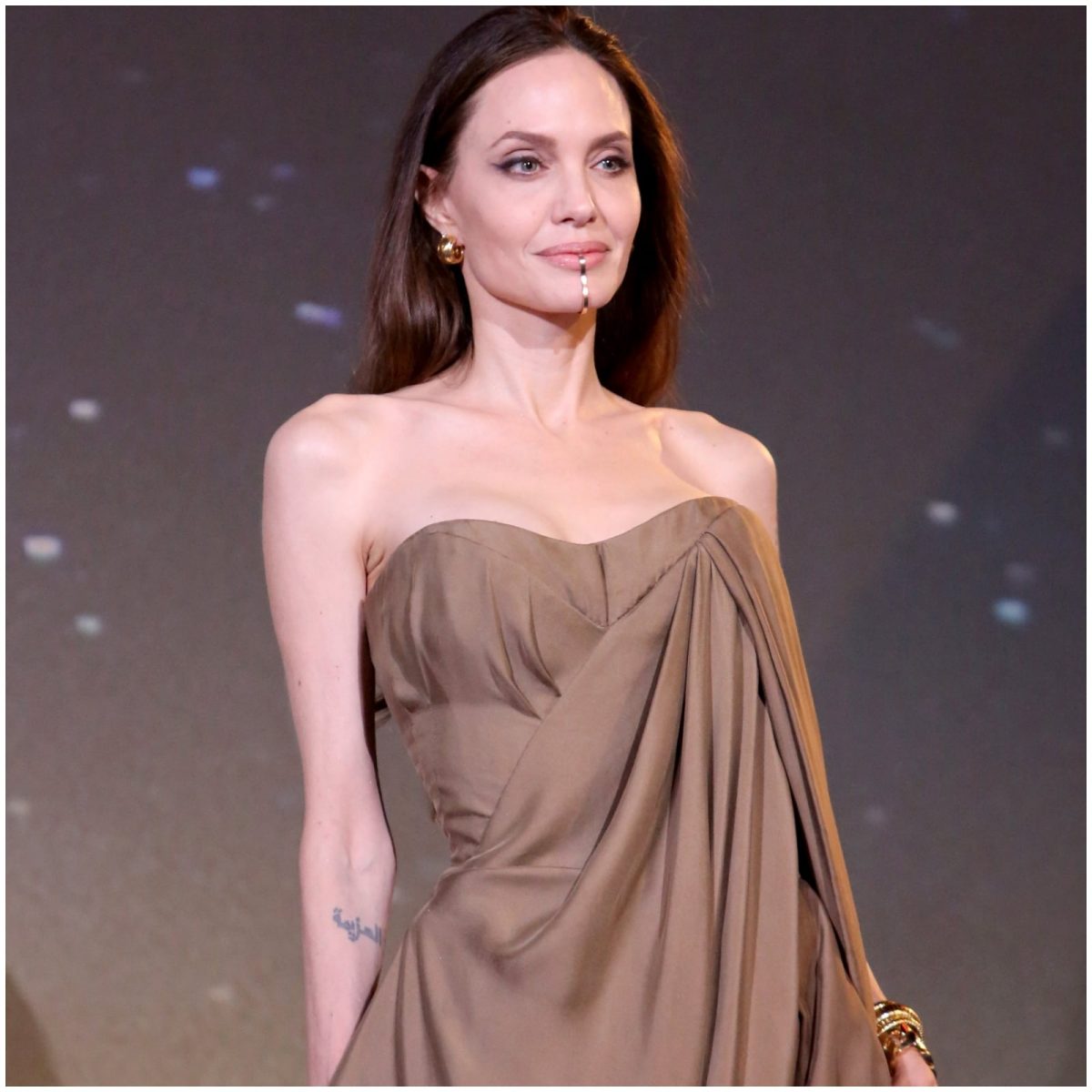 In addition to her film career, Jolie is known for her humanitarian efforts. She has received a Jean Hersholt Humanitarian Award and was made an honorary Dame Commander of the Order of St Michael and St George (DCMG), among other honors. She promotes various causes, including conservation, education, and women's rights. She is most noted for her advocacy on behalf of refugees as a Special Envoy for the United Nations High Commissioner for Refugees (UNHCR). Jolie has undertaken over a dozen field missions globally to refugee camps and war zones; her visited countries include Cambodia, Sierra Leone, Tanzania, Pakistan, Afghanistan, Syria, Sudan, Yemen, and Ukraine.
As a public figure, Jolie has been cited as one of the most powerful and influential people in the American entertainment industry. Various media outlets have cited her as the world's most beautiful woman. Her personal life, relationships, marriages, and health, have been the subject of wide publicity. She is divorced from actors Jonny Lee Miller, Billy Bob Thornton, and Brad Pitt. She has six children with Pitt, three of whom were adopted internationally.
Angelina Jolie Biography

Born

Angelina Jolie Voight

June 4, 1975 (age 47)

Los Angeles, California, U.S.

Other names
Angelina Jolie Pitt
Citizenship
Occupation

Actress
filmmaker
humanitarian

Years active
1982–present

Works

Full list

Spouse(s)

Jonny Lee Miller

(

m.

 1996; 

div.

 2000)

​

Billy Bob Thornton

(

m.

 2000; 

div.

 2003)

​

Children
6
Parents

Jon Voight (father)
Marcheline Bertrand (mother)

Relatives

James Haven (brother)
Barry Voight (uncle)
Chip Taylor (uncle)

Awards
Full list
Special Envoy to the United Nations
High Commissioner for Refugees

Incumbent

Assumed office
April 17, 2012
High Commissioner
António Guterres
(2005–2015)
Filippo Grandi
(2016–present)

Preceded by

Office established
Early life and family (Angelina Jolie Biography)
Angelina Jolie Voight was born on June 4, 1975, in Los Angeles, California, to actors Jon Voight and Marcheline Bertrand. She is the sister of actor James Haven and the niece of singer-songwriter Chip Taylor and geologist and volcanologist Barry Voight. Her godparents are actors Jacqueline Bisset and Maximilian Schell. On her father's side, Jolie is of German and Slovak descent, while her mother is of French-Canadian ancestry. Jolie has claimed to have partial Indigenous (Iroquois) ancestry.
Jolie has had a lifelong dysfunctional relationship with her father, which began when Voight left the family when his daughter was less than a year old. She said their time together was sporadic and usually carried out in front of the press. They reconciled when they appeared together in Lara Croft: Tomb Raider (2001), but their relationship deteriorated. Jolie petitioned the court to legally remove her surname, Voight, in favor of her middle name, which she had long used as a stage name; the name change was granted on September 12, 2002. Voight then went public with their estrangement during an appearance on Access Hollywood, in which he claimed Jolie had "serious mental problems." At that point, her mother and brother also broke off contact with him. They did not speak for six and a half years. Still, They began rebuilding their relationship in the wake of Bertrand's death from ovarian cancer on January 27, 2007, before going public with their reconciliation three years later.
Career (Angelina Jolie Biography)
Early work (1991–1997)
Jolie committed to acting professionally at 16 but initially found it difficult to pass auditions, often being told that her demeanor was "too dark." She appeared in five of her brother's student films, made. At the same time, he attended the USC School of Cinema-Television, as well as in several music videos, namely Lenny Kravitz's "Stand by My Woman" (1991), Antonello Venditti's "Alta Marea" (1991), The Lemonheads's "It's About Time" (1993). Meat Loaf's "Rock and Roll Dreams Come Through" (1993). She began to learn from her father as she noticed his method of observing people become like them. Their relationship during this time was less strained, with Jolie realizing they were both "drama queens."
Jolie's career prospects began to improve after she won a Golden Globe Award for her performance in TNT's George Wallace (1997), about the life of the segregationist Alabama Governor and presidential candidate George Wallace, played by Gary Sinise. Jolie portrayed Wallace's second wife, Cornelia, a performance Lee Winfrey of The Philadelphia Inquirer considered a film's highlight. George Wallace was very well received by critics and won, among other awards, the Golden Globe Award for Best Miniseries or Television Film. Jolie also received a nomination for an Emmy Award for her performance.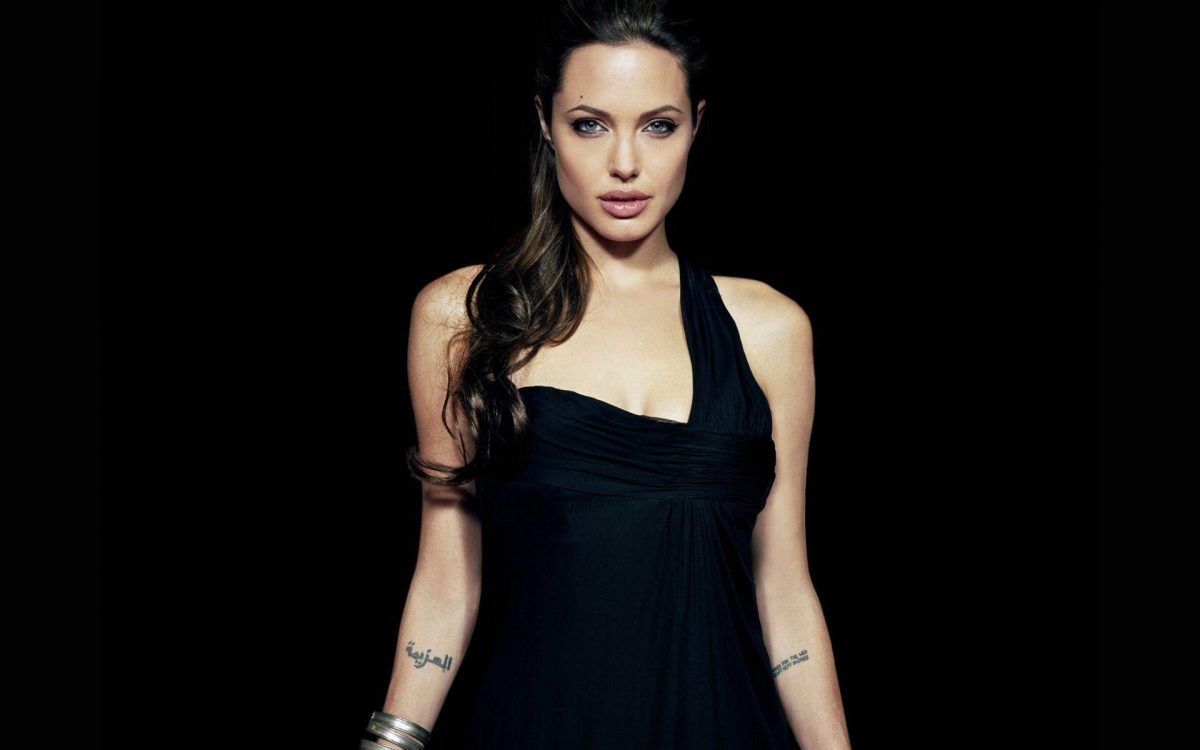 Breakthrough (1998–2000)
Jolie's first breakthrough came when she portrayed supermodel Gia Carangi in HBO's Gia (1998). The film chronicles the destruction of Carangi's life and career as a result of her addiction to heroin and her decline and death from AIDS in the mid-1980s. Vanessa Vance of Reel.com retrospectively noted, "Jolie gained wide recognition for her role as the titular Gia, and it's easy to see why. Jolie is fierce in her portrayal—filling the part with nerve, charm, and desperation—and her role in this film is quite possibly the most beautiful train wreck ever filmed." Jolie won a Golden Globe Award for the second consecutive year and was nominated for an Emmy Award. She also won her first Screen Actors Guild Award.
In 2000, Jolie appeared in her first summer blockbuster, Gone in 60 Seconds, which became her highest-grossing film, earning $237.2 million internationally. She had a minor role as the mechanic ex-girlfriend of a car thief played by Nicolas Cage; The Washington Post writer Stephen Hunter criticized that "all she does in this movie is stand around, cooling down, modeling those fleshy, pulsating muscle-tubes that nest so provocatively around her teeth." Jolie later explained that the film had been a welcome relief after her emotionally demanding role in Girl, Interrupted.
Worldwide recognition (2001–2004)
Although widely praised for her acting and performances, Jolie had rarely found films that appealed to a wide audience, but 2001's Lara Croft: Tomb Raider made her an international superstar. An adaptation of the popular Tomb Raider video games, the film required her to learn an English accent and undergo extensive martial arts training to play the archaeologist-adventurer Lara Croft. Although the film generated mostly negative reviews, Jolie was generally praised for her physical performance; Newsday's John Anderson commented, "Jolie makes the title character a virtual icon of female competence and coolth." The film was an international hit, earning $274.7 million worldwide, and launched her global reputation as a female action star.
Jolie made a brief appearance as a fighter pilot in Sky Captain and the World of Tomorrow; a science fiction adventure shot entirely with actors in front of a bluescreen. She voiced her first family film, the DreamWorks animation Shark Tale. Her supporting role as Queen Olympias in Oliver Stone's Alexander, about the life of Alexander the Great, was met with mixed reception, particularly concerning her Slavic accent. Commercially, the film failed in North America, which Stone attributed to disapproval of the depiction of Alexander's bisexuality, but it succeeded internationally, grossing $167.3 million.
Established actress (2005–2010)
In 2005, Jolie returned to major box office success with the action-comedy Mr. & Mrs. Smith, in which she starred opposite Brad Pitt as a bored married couple who find out that they are both secret assassins. The film received mixed reviews but was generally lauded for the chemistry between the two leads; Star Tribune critic Colin Covert noted, "While the story feels haphazard, the movie gets by on gregarious charm, galloping energy, and the stars' thermonuclear screen chemistry." With box office takings of $478.2 million worldwide, Mr. & Mrs. Smith was the seventh-highest grossing picture of the year and remained Jolie's highest-grossing live-action film for the next decade.
Jolie starred opposite Johnny Depp in the thriller The Tourist (2010). The film was a critical failure, though Roger Ebert defended Jolie's performance, stating that she "does her darndest" and "plays her femme fatale with flat-out, drop-dead sexuality." Despite poor critical reception and a slow start at the North American box office, the film grossed a respectable $278.3 million worldwide, cementing Jolie's appeal to international audiences. She received a Golden Globe Award nomination for her performance, which prompted speculation that it had been given merely to ensure her high-profile presence at the awards ceremony.
Career expansion (2011–present) (Angelina Jolie Biography)
After directing the documentary A Place in Time (2007), which was distributed through the National Education Association, Jolie made her feature directorial debut with In the Land of Blood and Honey (2011), a love story between a Serb soldier and a Bosniak prisoner, set during the 1992–95 Bosnian War. She conceived the film to rekindle attention for the survivors after twice visiting Bosnia and Herzegovina in her role as a UNHCR Goodwill Ambassador. To ensure authenticity, she cast only actors from the former Yugoslavia—including stars Goran Kostić and Zana Marjanović—and incorporated their wartime experiences into her screenplay. Upon release, the film received mixed reviews; Todd McCarthy of The Hollywood Reporter wrote, "Jolie deserves significant credit for creating such a powerfully oppressive atmosphere and staging the ghastly events so credibly, even if it is these very strengths that will make people not want to watch what's onscreen." The film was nominated for a Golden Globe Award for Best Foreign Language Film, and Jolie was named an honorary citizen of Sarajevo for raising awareness of the war.
Jolie reprised the role of Maleficent in the Disney fantasy sequel Maleficent: Mistress of Evil (2019), which received unfavorable reviews from critics but performed moderately well commercially, with a global gross of $490 million. She next starred alongside David Oyelowo as grieving parents to the title characters of Alice in Wonderland and Peter Pan in the 2020 fantasy film Come Away. Jolie starred as a smokejumper in Taylor Sheridan's action thriller Those Who Wish Me Dead. The film was released in May 2021, garnering moderate reviews. The Independent's Clarisse Loughrey wrote Jolie's "bare-knuckled performance … easily outclasses the film that contains it". Jolie played Thena, a warrior with post-traumatic stress disorder, in the Marvel Cinematic Universe superhero film Eternals. Released in November 2021, the film generated divergent responses from audiences and critics. Reviewing the film for The Washington Post, Ann Hornaday highlighted the "touching naivete" in Jolie's portrayal. Jolie is set to produce and star in an adaptation of the 2014 James Scott novel The Kept.
Humanitarian work (Angelina Jolie Biography)
UNHCR ambassadorship
Jolie first witnessed the effects of a humanitarian crisis while filming Lara Croft: Tomb Raider (2001) in war-torn Cambodia, an experience she later credited with bringing her a greater understanding of the world. Upon her return home, Jolie contacted the United Nations High Commissioner for Refugees (UNHCR) for information on international trouble spots. To learn more about the conditions in these areas, she began visiting refugee camps worldwide. In February 2001, she went on her first field visit, an 18-day mission to Sierra Leone and Tanzania; she later expressed shock at what she had witnessed.
On April 17, 2012, after more than a decade of service as a UNHCR Goodwill Ambassador, Jolie was promoted to the rank of Special Envoy to High Commissioner António Guterres, the first to take on such a position within the organization. In her expanded role, she was given authority to represent Guterres and UNHCR at the diplomatic level, focusing on major refugee crises. In the months following her promotion, she made her first visit as Special Envoy—her third overall—to Ecuador, where she met with Colombian refugees, and she accompanied Guterres on a week-long tour of Jordan, Lebanon, Turkey, and Iraq, to assess the situation of refugees from neighboring Syria. Since then, Jolie has been on over a dozen field missions worldwide to meet with refugees and undertake advocacy on their behalf.
Conservation and community development
To connect her Cambodian-born adopted son with his heritage, Jolie purchased a house in his country of birth in 2003. The traditional home sat on 39 hectares in the northwestern province Battambang, adjacent to Samlout national park in the Cardamom mountains, which had become infiltrated by poachers who threatened endangered species. She purchased the park's 60,000 hectares and turned the area into a wildlife reserve named for her son, the Maddox Jolie Project. In recognition of her conservation efforts, King Norodom Sihamoni awarded her Cambodian citizenship on July 31, 2005.
After filming Beyond Borders (2003) in Namibia, Jolie became patron of the Harnas Wildlife Foundation, a wildlife orphanage and medical center in the Kalahari desert. She first visited the Harnas farm during the film's production, which features vultures rescued by the foundation. In December 2010, Jolie and her partner, Brad Pitt, established the Shiloh Jolie-Pitt Foundation to support conservation work by the Naankuse Wildlife Sanctuary, a nature reserve also located in the Kalahari. In the name of their Namibian-born daughter, they have funded large-animal conservation projects, a free health clinic, housing, and a school for the San Bushmen community at Naankuse. Jolie and Pitt support other causes through the Jolie-Pitt Foundation, established in September 2006.
Child immigration and education
Jolie has pushed for legislation to aid child immigrants and other vulnerable children in the U.S. and developing nations, including the "Unaccompanied Alien Child Protection Act of 2005." She began lobbying humanitarian interests in the U.S. capital from 2003 onwards, explaining, "As much as I would love never to have to visit Washington, that's the way to move the ball." Since October 2008, she has co-chaired Kids in Need of Defense (KIND), a network of leading U.S. law firms that provide free legal aid to unaccompanied minors in immigration proceedings across the U.S. Founded in a collaboration between Jolie and the Microsoft Corporation in 2013, KIND had become the principal provider of pro bono lawyers for immigrant children. Jolie had previously, from 2005 to 2007, funded the launch of a similar initiative, the U.S. Committee for Refugees and Immigrants' National Center for Refugee and Immigrant Childre.
Jolie is the executive producer of the BBC program My World, which aims to teach teenagers to think critically about what they read and tell high-quality journalism from bad.
Human rights and women's rights
After Jolie joined the Council on Foreign Relations (CFR) in June 2007, she hosted a symposium on international law and justice at CFR headquarters. She funded several CFR special reports, including "Intervention to Stop Genocide and Mass Atrocities." In January 2011, she established the Jolie Legal Fellowship, a network of lawyers and attorneys who are sponsored to advocate the development of human rights in their countries. Its member attorneys, Jolie Legal Fellows, have facilitated child protection efforts in Haiti in the wake of the 2010 earthquake and promoted the development of an inclusive democratic process in Libya following the 2011 revolution.
In September 2020, Jolie donated to two young boys running a lemonade stand in London to raise money for the people of Yemen, as the country was on the brink of the humanitarian crisis caused by the Saudi-led coalition and Houthi rebels. In May 2022, Jolie visited Lviv, Ukraine, amid the 2022 Russian invasion of Ukraine to meet with displaced and hospitalized children.
Recognition and honors
Jolie has received wide recognition for her humanitarian work. In August 2002, she received the inaugural Humanitarian Award from the Church World Service's Immigration and Refugee Program. In October 2003, she was the first recipient of the Citizen of the World Award by the United Nations Correspondents Association. The UNA-USA awarded her the Global Humanitarian Award in October 2005 and the Freedom Award from the International Rescue Committee in November 2007. In October 2011, UN High Commissioner for Refugees António Guterres presented Jolie with a gold pin reserved for the most long-serving staff, recognizing her decade as a UNHCR Goodwill Ambassador.
In November 2013, Jolie received the Jean Hersholt Humanitarian Award, an honorary Academy Award, from the Academy of Motion Picture Arts and Sciences Board of Governors. In June 2014, she was appointed an Honorary Dame Commander of the Order of St Michael and St George (DCMG) for her services to the UK's foreign policy and campaigning to end sexual violence in war zones. Queen Elizabeth II presented Jolie with the insignia of her honorary damehood during a private ceremony the following October.
Personal life (Angelina Jolie Biography)
Relationships and marriages
Jolie had a serious boyfriend for two years from the age of 14. Her mother allowed them to live together in her home, of which Jolie later said, "I was either going to be reckless on the streets with my boyfriend, or he was going to be with me in my bedroom with my mom in the next room. She made a choice, and because of it, I continued to go to school every morning and explored my first relationship in a safe way." She has compared the relationship to a marriage in its emotional intensity and said that the breakup compelled her to dedicate herself to her acting career at age 16.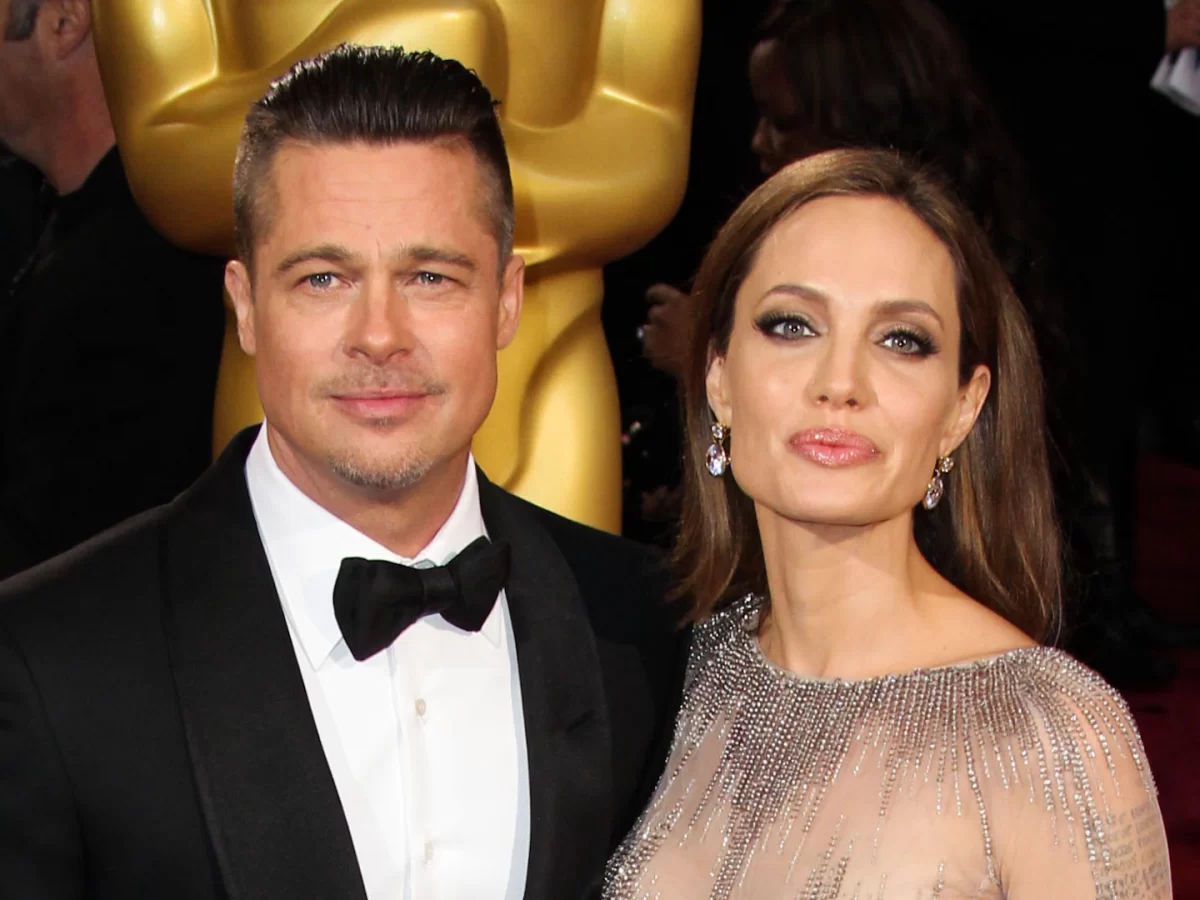 During their 12-year relationship, the couple were dubbed "Brangelina"—a portmanteau coined by the media—and were the subject of worldwide media coverage. They became known as one of Hollywood's most glamorous couples. Their family grew to include six children, three of whom were adopted, before they announced their engagement in April 2012. Jolie and Pitt married on August 23, 2014, at their estate Château Miraval in Correns, France. She subsequently took on the name "Angelina Jolie Pitt." After two years of marriage, the couple separated on September 15, 2016. On September 19, Jolie filed for divorce, citing irreconcilable differences. Their divorce was finalized on April 12, 2019.
Children (Angelina Jolie Biography)
Jolie has six children. Of the children, three were adopted internationally, while three were biological.
On March 10, 2002, Jolie adopted her first child, seven-month-old Maddox Chivan, from an orphanage in Battambang, Cambodia. He was born as Rath Vibol on August 5, 2001, in a local village. After twice visiting Cambodia while filming Lara Croft: Tomb Raider (2001) and on a UNHCR field mission, Jolie returned in November 2001 with her then-husband, Billy Bob Thornton, where they met and subsequently applied to adopt Maddox. The adoption process was halted the following month when the U.S. government banned adoptions from Cambodia amid allegations of child trafficking. Although Jolie's adoption facilitator was later convicted of visa fraud and money laundering, her adoption of Maddox was deemed lawful. Once the process was finalized, she took custody of Maddox in Namibia, where she was filming Beyond Borders (2003). Jolie and Thornton announced the adoption together, but she adopted Maddox alone, becoming a single parent following her separation from Thornton three months later.
At the 2008 Cannes Film Festival, Jolie confirmed that she was expecting twins. For the two weeks, she spent in a seaside hospital in Nice, France, reporters and photographers camped outside on the promenade. She gave birth to twins Knox Léon and Vivienne Marcheline on July 12, 2008. Knox Léon was named after two of the twins' ancestors, and Vivienne Marcheline was named in honor of Jolie's mother. The first pictures of Knox and Vivienne were jointly sold to People and Hello! for a reported $14 million—the most expensive celebrity photographs ever taken. All proceeds were donated to the Jolie-Pitt Foundation.
Cancer prevention treatment
On February 16, 2013, Jolie underwent a preventive double mastectomy at age 37 after learning she had an 87 percent risk of developing breast cancer due to a defective BRCA1 gene. Her maternal family history warranted genetic testing for BRCA mutations: her mother, actress Marcheline Bertrand, had breast cancer and died of ovarian cancer, while her grandmother died of ovarian cancer. Her aunt, who had the same BRCA1 defect, died of breast cancer three months after Jolie's operation. Following the mastectomy, which lowered her chances of developing breast cancer to under five percent, Jolie had reconstructive surgery involving implants and allografts (transplantations from a donor). Two years later, in March 2015, after annual test results indicated possible signs of early ovarian cancer, she underwent a preventive salpingo-oophorectomy (removal of an ovary and its fallopian tube), as she had a fifty percent risk of developing ovarian cancer due to the same genetic anomaly. Despite hormone replacement therapy, the surgery brought on premature menopause.
Reception (Angelina Jolie Biography)
Public image
As the daughter of actor Jon Voight, Jolie appeared in the media from an early age. After embarking on her career, she earned a reputation as a "wild child," which contributed to her early success in the late 1990s and 2000s. Celebrity profiles routinely covered her fascination with blood and knives, experiences with drugs, and her sex life, particularly her bisexuality and interest in sadomasochism. In 2000, when asked about her outspokenness, she stated: "I say things that other people might go through. That's what artists should do—throw things out there, not be perfect, and not have answers for anything and see if people understand." Another contributing factor to her controversial image was tabloid rumors of incest that began when Jolie, upon winning her Oscar for Girl, Interrupted, kissed her brother on the lips and said, "I'm so in love with my brother right now." She dismissed the rumors, saying, "It was disappointing that something so beautiful and pure could be turned into a circus," and explained that, as children of divorced parents, she and James relied on one another for emotional support.
Jolie's general influence and wealth are extensively documented. In a 2006 global industry survey by ACNielsen in 42 international markets, Jolie, together with Pitt, was found to be the favorite celebrity endorser for brands and products worldwide. Jolie was the face of St. John and Shiseido from 2006 to 2008 and a decade later became a spokesmodel for Guerlain. Her 2011 endorsement deal with Louis Vuitton, reportedly worth $10 million, was a record for a single advertising campaign. Jolie was among the Time 100, a list of the most influential people in the world as published by Time in 2006 and 2008. She was named the world's most powerful celebrity in Forbes's Celebrity 100 issue in 2009 and, though ranked lower overall, was listed as the most powerful actress from 2006 to 2008 and 2011 to 2013. Forbes additionally cited her as Hollywood's highest-paid actress in 2009, 2011, and 2013, with estimated annual earnings of $27 million, $30 million, and $33 million, respectively.
Appearance (Angelina Jolie Biography)
Jolie's public image is strongly tied to her perceived beauty and sex appeal. Many media outlets, including Vogue, People, and Vanity Fair, have cited her as the world's most beautiful woman, while others such as Esquire, FHM, and Empire have named her the sexiest woman alive; both titles have often been based on public polls in which Jolie places far ahead of other celebrity women. Her most recognizable physical features are her many tattoos, eyes, and in particular, her full lips, which The New York Times considered as defining a feature as Kirk Douglas' chin or Bette Davis' eyes. Among her estimated 20 tattoos are the Latin proverb quod me nutrit me destruit ("what nourishes me destroys me"), the Tennessee Williams quote "A prayer for the wild at heart, kept in cages," four Buddhist Sanskrit prayers of protection, a 12-inch tiger, and geographical coordinates of where she first met her adopted children. Over time, she has covered or lasered several of her tattoos, including "Billy Bob," the name of her second husband.
In the 2010s, Jolie wore satin gowns, diamond jewelry, and Grecian silhouettes. She attended the 84th Academy Awards in a black velvet gown designed by Versace, deemed one of the most significant gowns in fashion history and pop culture, with Jolie's posing becoming the subject of Internet memes. Jolie prefers to invest in quality pieces and, in the 2020s, adopt more sustainable fashion while dressing.
Filmography (Angelina Jolie Biography)
Jolie has appeared in over thirty film productions since 1982. According to the review aggregator site Rotten Tomatoes and infotainment website Screen Rant, her most critically acclaimed and commercially successful films are Playing by Heart (1998), Gia (1998), Gone in 60 Seconds (2000), Lara Croft: Tomb Raider (2001), Lara Croft: Tomb Raider – The Cradle of Life (2003), Sky Captain and the World of Tomorrow (2004), Alexander (2004), Mr. & Mrs. Smith (2005), Beowulf (2007), A Mighty Heart (2007), Changeling (2008), Kung Fu Panda (2008), Wanted (2008), Salt (2010), The Tourist (2010), Maleficent (2014), and Maleficent: Mistress of Evil (2019). Her television projects comprise CBS miniseries True Women and TNT's George Wallace.
Jolie has directed several films, such as In the Land of Blood and Honey (2011), Unbroken (2014), By the Sea (2015), and First They Killed My Father (2017). Her producing and executive producing credits include In the Land of Blood and Honey (2011), Unbroken (2014), Maleficent (2014), First They Killed My Father (2017), and Maleficent: Mistress of Evil (2019). Jolie served as a screenwriter for In the Land of Blood and Honey (2011), By the Sea (2015), and First They Killed My Father (2017).
Awards and nominations (Angelina Jolie Biography)
Year
Award
Category
Film
Result
1998
Emmy Award
Outstanding Supporting Actress – Miniseries or Movie
George Wallace
Nominated
1998
Golden Globe Award
Best Supporting Actress – Series, Miniseries, or Television Film
Won
1998
Emmy Award
Outstanding Lead Actress – Miniseries or Movie
Gia
Nominated
1999
Golden Globe Award
Best Actress – Miniseries or Television Film
Won
1999
Screen Actors Guild Award
Outstanding Female Actor – Miniseries or Television Movie
Won
2000
Academy Award
Best Supporting Actress
Girl, Interrupted
Won
2000
Golden Globe Award
Best Supporting Actress – Motion Picture
Won
2000
Screen Actors Guild Award
Outstanding Supporting Female Actor
Won
2008
Golden Globe Award
Best Actress – Motion Picture Drama

A Mighty Heart

Nominated
2008
Screen Actors Guild Award
Outstanding Leading Female Actor
Nominated
2009
Academy Award
Best Actress
Changeling
Nominated
2009
BAFTA Award
Best Leading Actress
Nominated
2009
Golden Globe Award
Best Actress – Motion Picture Drama
Nominated
2009
Screen Actors Guild Award
Outstanding Leading Female Actor
Nominated
2011
Golden Globe Award
Best Actress – Motion Picture Musical or Comedy
The Tourist
Nominated
2012
Golden Globe Award
Best Foreign Language Film
In the Land of Blood and Honey
Nominated
2018
BAFTA Award
Best Film Not in the English Language
First They Killed My Father
Nominated
2018
Golden Globe Award
Best Foreign Language Film
Nominated
Bibliography (Angelina Jolie Biography)
Notes from My Travels: Visits with Refugees in Africa, Cambodia, Pakistan, and Ecuador (2003).