International
Australia PM Anthony Albanese Sees "Promising Signs" Of Better China Ties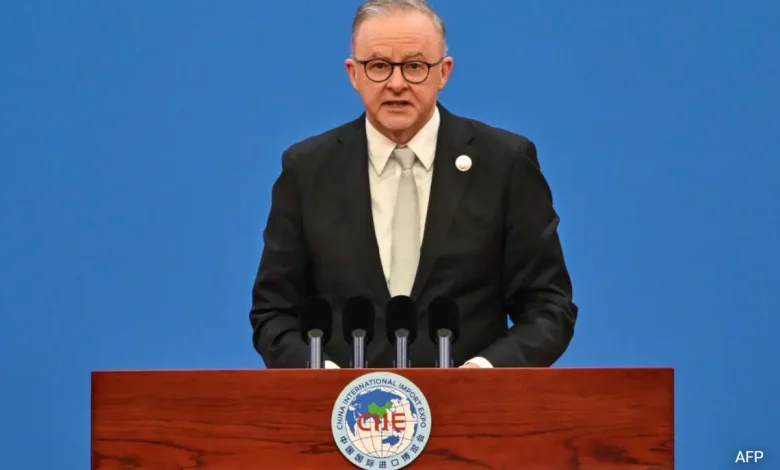 Beijing: Australia's state leader hailed "promising signs" of better relations with China on Monday, as he visited Beijing for milestone converses with Xi Jinping. Following quite a while of profound malevolence between the two exchanging accomplices, Anthony Albanese anticipated a "productive conversation" with China's chief and commended as of late better exchange ties.
"I think there are promising signs," Albanese said. "We've proactively seen some of the obstructions to exchange between two countries eliminated."
Albanese is the principal Australian top state leader to visit China in seven years, and the visit has been viewed as a wound at standardization.
Beijing successfully put relations in profound freeze from 2020 to voice disappointment at a line of Australian strategy choices.
Canberra's transition to forbid Huawei from 5G agreements, its focusing of Chinese impact tasks in Australia and a choice to challenge China on its treatment of the Coronavirus pandemic all maddened Beijing.
Accordingly, China founded a shadow prohibition on clerical gatherings and slapped corrective levies on a large number of Australian products going from coal, to grain, to wine.
Albanese, who drives the middle left Work party, took power in 2022 promising to consistent the relationship with Australia's biggest exchanging accomplice.
Talking in the wake of visiting the Sanctuary of Paradise – – perhaps of China's most visited memorable site – – Albanese said that the state of mind, and exchange streams, had since gotten to the next level.
He said there had been a "significant elevate in the exchange between our two countries" after China facilitated some import limitations.
"We really want to help out China where we can, differ where we should," he added.
"China is our most significant exchanging accomplice. It addresses in excess of 25% of our products and one of every four of our positions depends upon our exchange. So it's a significant relationship."