Biographies
Lifestyle
Nithya Menen Biography – an Indian Actress who works in Different Languages Films
Nithya Menen is an Indian actress and singer who works primarily in Malayalam, Telugu, Tamil, Kannada and Hindi films. She appeared first on-screen as a child, when she was eight, in the French-Indian English film, Hanuman, playing the younger sister to Tabu's character.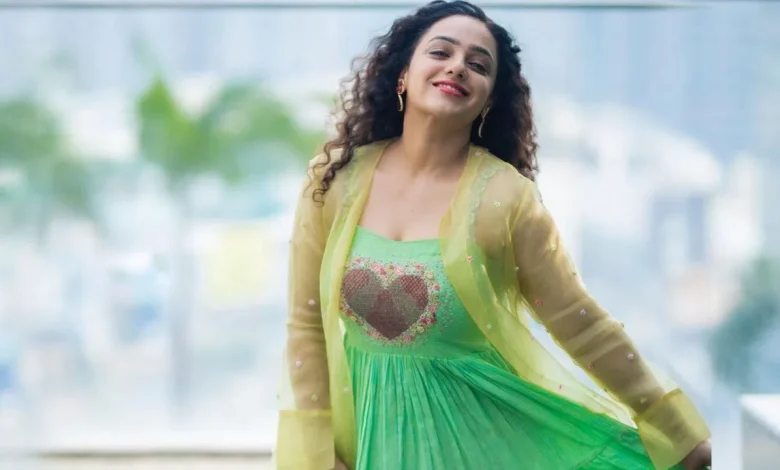 Quick Info→
Real Name:
Nithya Menen
Profession:
Indian actress
Birthplace:
Bengaluru, Karnataka, India
Famous for:
Top Telugu Actresses
Age:
33
Nithya Menen (born 8 April 1990) is an Indian actress and singer who works primarily in Malayalam, Telugu, Tamil, Kannada, and Hindi films. She appeared first on-screen as a child, when she was eight, in the French-Indian English film, Hanuman (1998), playing the younger sister to Tabu's character. At the age of 15, she appeared in a supporting role in the Kannada film 7 O'Clock, which was released in 2006. She has played leading roles in Malayalam in Aakasha Gopuram (2008), in Telugu in Ala Modalaindi (2011), and in Tamil with Nootrenbadhu (2011). Her Hindi debut was Mission Mangal (2019).
Nithya Menen Biography

Born
8 April 1990
Alma mater
Mount Carmel College, Bangalore
Manipal Academy of Higher Education
Occupations
Years active
1998, 2001–2002 (child artist);
2006–present
Early life (Nithya Menen Biography)
Nithya Menen was born on 8 April 1990 in Bangalore to Malayali parents who settled in Karnataka. Her father hails from Perambra in Kozhikode district and her mother hails from Palakkad district in Kerala. She was educated at Poorna Prajna School and Mount Carmel College, Bangalore.
She has said that she initially wished to become a journalist, but ultimately found journalism unappealing, so she pivoted to filmmaking and enrolled in a cinematography course at the Film and Television Institute of India in Pune. During the school's entrance exam, she met B. V. Nandini Reddy, who convinced Menen to take up acting. Nithya is a polyglot and can speak six languages including Malayalam, Kannada, Telugu, Tamil, Hindi, and English.
As a child, Menen had acted in a French-Indian English film named Hanuman, at the age of 8, playing the younger sister to Tabu's character.
Career
Child artiste, film debut in Kannada and Malayalam (1998; 2001-02; 2006–2010)
In 1998, Menen started her acting career as a child artiste in Hanuman (1998). She also was a part of the Hindi-language soap opera Choti Maa – Ek Anokha Bandhan. She played a supporting role in the Kannada film 7 O'Clock. The 2008 off-beat film Aakasha Gopuram, directed by K. P. Kumaran, marked her Malayalam debut in a leading role, in which she was paired with Mohanlal. She was in the midst of her 12th class exams when she was offered the role after Mohanlal had spotted her on the front cover of a tourism magazine, Stark World Kerala. Her performance was well received, with critics writing that she shows "sparkle in her debut venture" and "makes her entry in an impressive role", though the film was a financial failure.
Telugu debut and breakthrough (2011–2012)
Menen's career marked a turning point in 2011, with the romantic comedy Ala Modalaindi, which was her maiden Telugu venture. The film opened to favorable reviews by critics and turned out to become a sleeper hit, while Menen received critical praise for her performance. Idlebrain's Jeevi in his review cited that she "epitomized Nitya character with her fabulous performance", "looks beautiful in all kinds of dresses" and was "the best debut in recent years of Telugu cinema after Samantha in YMC", while another critic wrote that she was a "charming find" and "…quite the Genelia replacement that our cinema so badly needs right now." She eventually won the Nandi Award for Best Actress for her performance and received a nomination for the Filmfare Award for Best Actress. Furthermore, she also sang two songs for the soundtrack album of the film, tuned by Kalyani Malik. Nandini Reddy, later, went on to describe Menen as "the discovery of the decade".
Menen's first 2012 release was the Telugu romance film Ishq with Nitin Reddy. She received the CineMAA Award for Best Actress (jury) while receiving a Best Actress nomination at the same event and at the SIIMA Awards. She was later seen in five Malayalam films: Karmayogi, V. K. Prakash's Malayalam adaptation of Shakespeare's Hamlet co-starring Indrajith Sukumaran, Poppins, the Malayalam remake of Aidondla Aidu in which she reprised her role from the original and sang the Malayalam version of "Payasa", T. K. Rajeev Kumar's Thalsamayam Oru Penkutty, in which she portrayed a village woman whose daily life is filmed and broadcast as a reality show for a month, Amal Neerad's Bachelor Party in which she played Asif Ali's wife and young mother to their baby and Ustad Hotel directed by Anwar Rasheed where she paired up for the first time with Dulquer Salmaan.
Further work and continuous success (2013–2015)
In 2013, she starred in three Telugu and one Kannada film. She first appeared in Okkadine with Nara Rohit and in Jabardasth with Siddharth and Samantha. Menen received praise for playing the titular role of a physically challenged girl in Mynaa. The film was successful and completed in 100 days in many centers across Karnataka. Her performance was well-praised by the critics. She also sang the female version of "Modele Maleyante" which was well received.
Menen achieved further acclaim with three more films in 2015. She played a crippled girl alongside Raghava Lawrence in his directorial Kanchana 2, a successful film. The critics termed her performance "crucial" and "effective". Menen received immense praise for the romantic film O Kadhal Kanmani, directed by Mani Ratnam. She played an architectural student, Tara, opposite Dulquer Salmaan. Dulquer and Menen's on-screen chemistry was praised and she garnered her first Filmfare Award for Best Actress – Tamil nomination. The film became a financial success at the box office. Firstpost noted, " Menen is an exceptional actor and has delivered a very realistic performance." It further praised her chemistry with Salmaan and added, "They're perfect as the couple and the credit goes to the director for capturing the chemistry between them in simple ways." She played Princess Muktamba in Rudhramadevi with Anushka Shetty, her final film of the year. The Hindu stated, "Nithya Menen shows that she can leave an imprint on any character she plays. She is an endearing addition to this film."
Established actress and acclaim (2016–2021)
By 2016, Menen established herself as a leading actress. She starred in three Tamil films in 2016. Beginning the year was 24 she was paired opposite Suriya for the first time. The film was opened to high critical acclaim, Deccan Chronicle wrote, "Nithya Menen shines in her role." Her screen presence garnered her a Filmfare Award for Best Supporting Actress – Tamil nomination. She played the main heroine in K. S. Ravikumar's bilingual project titled Kotigobba 2 opposite Sudeep. Towards the end of the year, she starred alongside Vikram in the science-fiction thriller Iru Mugan and received praise for her limited role. In Telugu, she starred in two films, Okka Ammayi Thappa opposite Sundeep Kishan and Janatha Garage opposite Jr. NTR. All of her films proved commercial success.
In 2020, Menon starred alongside Udhayanidhi Stalin in Mysskin's Psycho, where she played Kamala Das, a foul-mouthed quadriplegic ex-police officer. The same year, she made her OTT debut in the Amazon Prime series Breathe: Into the Shadows alongside Abhishek Bachchan, for which she received her first nomination for 'Best Actor, Series (Female): Drama' at the Filmfare OTT Awards.
Menen starred in three Telugu films in 2021. She played a spirit named Maya in Ninnila Ninnila with Ashok Selvan and Ritu Varma. Firstpost wrote, "The big surprise in the film is Nithya whose impishness in the story is unlike anything else that she has portrayed over the years, and her on-screen chemistry with Selvan is a delight." Her next film Skylab, marked her first film as a producer. She played a singer in her year's final film Gamanam.
Expansion and recent work (2022–present)
Menen had four films and two web releases in 2022. She starred in Bheemla Nayak opposite Pawan Kalyan, the film was a box-office success. Cinema Express said, "Nithya Menen's Suguna, surprisingly gets a few memorable moments, and she brings a certain level of warmness to Bheemla whenever she is on screen." She appeared in the series Modern Love Hyderabad, where NDTV termed her performance "luminous". Next, she played an unknown lady in 19(1)(a) with Vijay Sethupathi. After this, she reprised her role in the third season of Breathe: Into the Shadows.
Menen received rave reviews for the romantic drama Thiruchitrambalam opposite Dhanush as his childhood best friend. It became a critical and commercial success. While Hindustan Times noted, "Nithya Menen has always shied away from playing the quintessential heroine. She's phenomenal in the film, playing a key character that she nails to perfection." India Today wrote, "If you give Nithya Menen a meaty character, everyone else can sit back and admire her living the role with full of zest." Menon played a pregnant woman in her final film of the year, Wonder Women.
Menen appeared in Kolaambi, her first film of 2023, which she termed among her "all-time favorites". She will next appear in the series Master Peace and Kumari Srimathi.
Artistry and media image (Nithya Menen Biography)
Ankur Pathak of HuffPost said that her filmography is "filled with experiments" and noted, "The actor has taken risks throughout her career. Menen has ensured that she's unforgettable even in cameos." Sangeetha Devi Dundoo of The Hindu said that she shows "shown a natural flair for acting" and noted that she has worked in a variety of genres from – breezy romance to period drama to out-of-the-box projects. Latha Srinivasan of The New Indian Express noted, "Nithya Menen slips into her character's skin with effortless ease." Nibandh Vinod of News18 termed her an "accomplished actress and singer" who has established a career in five industries.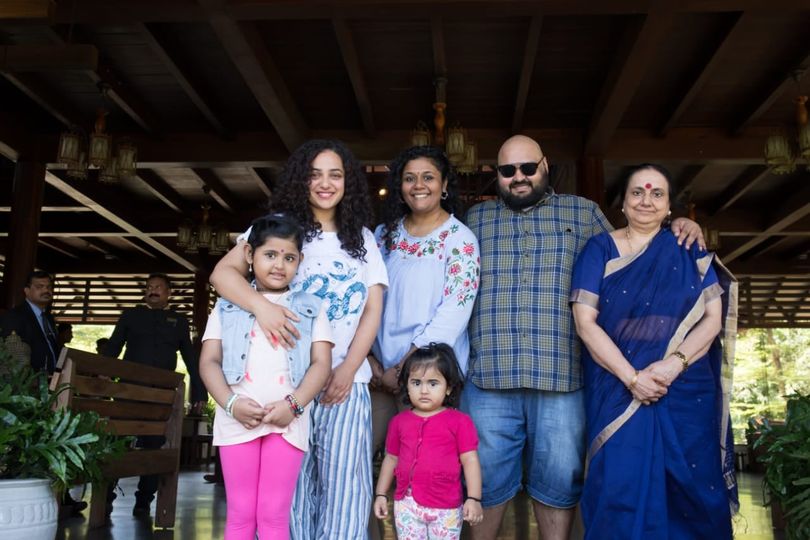 Menen is widely known for her performances in films such as – Kerala Cafe, Ala Modalaindi, 180, Ishq, Ustad Hotel, Malli Malli Idi Raani Roju, O Kadhal Kanmani, Mersal, Awe and Thiruchitrambalam among others. Menen has been placed in Rediff.com's "Top Telugu Actresses". She ranked 3rd in 2011, 5th in 2012, 1st in 2013, and 3rd in 2015. In its "Top Kannada Actresses", she ranked 1st in 2013, and in the "Top Tamil Actresses" list, she ranked 5th in 2015. Forbes India included Menen in its first-ever "Showstoppers – India's Top 50 Outperformers" list. She stood at 30th place on its Most Influential Stars on Instagram in South Cinema for the year 2021 list.
Menen is known as someone who is a very private person. Hemanth Kumar of Firstpost said, "There's always been an air of mystery about Nithya Menen, and when she talks, she's careful about how she articulates her thoughts and ideas. Despite her popularity, the actress is hardly in the news." Often compared to late actress Soundarya, Menen takes it as a compliment. "Since Soundarya, perhaps there hasn't been anyone that people could relate to. She was loved and respected," she says. In the Hyderabad Times' Most Desirable Woman list, she was placed 19th in 2014 and 15th in 2015.
Filmography (Nithya Menen Biography)
Films
Key

| | |
| --- | --- |
| † | Denotes films that have not yet been released |
Year
Title
Role
Language
Notes
1998
Hanuman
Munna
English
Child artist
2006
7 O' Clock
Anu
Kannada
2008
Aakasha Gopuram
Hilda Varghese
Malayalam
2009
Josh
Meera
Kannada
Vellathooval
Jiya George
Malayalam
Kerala Cafe
Nithya
Malayalam
Angel John
Sofia
Malayalam
2010
Apoorvaragam
Nancy
Malayalam
Anwar
Asna
Malayalam
2011
Ala Modalaindi
Nithya
Telugu
Urumi
Chirakkal Bala/ Daisy da Cunha
Malayalam
Nootrenbadhu/ 180
D. Vidya Lakshmi
Tamil
Bilingual film
Telugu
Violin
Angel
Malayalam
Veppam
Revathy
Tamil
Aidondla Aidu
Gowri
Kannada
Anthology film
Makaramanju
Model
Malayalam
2012
Ishq
Priya
Telugu
Thalsamayam Oru Penkutty
Manjula Ayyapan
Malayalam
Karmayogi
Moonumani
Malayalam
Doctor Innocentanu
Anna
Malayalam
Special appearance
Bachelor Party
Neethu
Malayalam
Ustad Hotel
Shahana
Malayalam
Poppins
Ammu
Malayalam
Anthology film
2013
Okkadine
Shailaja
Telugu
Jabardasth
Saraswati
Telugu
Myna
Myna
Kannada
Gunde Jaari Gallanthayyinde
Shravani / Bangaram
Telugu
2014
Malini 22 Palayamkottai
Malini
Tamil
Bangalore Days
Natasha Francis
Malayalam
Cameo appearance
2015
Malli Malli Idi Rani Roju
Nazeera Khanum
Telugu
JK Enum Nanbanin Vaazhkai
Nithya
Tamil
Telugu version Rajadhi Raja released in 2016
100 Days of Love
Sheela
Malayalam
S/O Satyamurthy
Valli
Telugu
Kanchana 2
Ganga
Tamil
O Kadhal Kanmani
Tara Kalingarayar
Tamil
Rudhramadevi
Muktamba
Telugu
2016
24
Priya Sethuraman
Tamil
Okka Ammayi Thappa
Mango / Satyabhama
Telugu
Kotigobba 2 / Mudinja Ivana Pudi
Subhashini / Shubha
Kannada
Bilingual film
Tamil
Janatha Garage
Anu
Telugu
Iru Mugan
Ayushi
Tamil
2017
Mersal
Aishwarya Vetrimaaran
Tamil
2018
Awe
Krishnaveni
Telugu
Geetha Govindam
Nithya
Telugu
Special appearance
2019
NTR: Kathanayakudu
Savitri
Telugu
Special appearance
Praana
Tara Anuradha
Malayalam
Multilingual film
Mission Mangal
Varsha Pillai
Hindi
2020
Psycho
Kamala Das IPS
Tamil
2021
Ninnila Ninnila
Maya
Telugu
Gamanam
Shailaputri Devi
Telugu
Anthology film; cameo appearance
Skylab
Gouri Venkataraju
Telugu
Also producer
2022
Bheemla Nayak
Suguna Nayak
Telugu
19(1)(a)
Unnamed
Malayalam
Thiruchitrambalam
Shobana
Tamil
Wonder Women
Nora Joseph
English
2023
Kolaambi
Arundhathi
Malayalam
Short film
| Year | Title | Role | Language | Notes |
| --- | --- | --- | --- | --- |
| 2020 | Color of a Nation | Pregnant woman | Telugu | |
Television
| Year | Title | Role | Language | Notes |
| --- | --- | --- | --- | --- |
| 2001-2002 | Chhoti Maa…Ek Anokha Bandhan | Young Koyna | Hindi | Child Artist |
| 2022 | Telugu Indian Idol | Judge | Telugu | |
Web series (Nithya Menen Biography)
Year
Title
Role
Language
Notes
2020–2022
Breathe: Into the Shadows
Abha Sabarwal
Hindi
seasons 2–3
2022
Modern Love Hyderabad
Noori Hussain
Telugu
2023
Kumari Srimathi
Itikalipudi Kumari Srimathi
Telugu
Master Peace †
Ria Binoy
Malayalam
Music videos
| Year | Song | Language | Singer(s) | Notes |
| --- | --- | --- | --- | --- |
| 2022 | Thaniye/Tanha | Malayalam/Hindi | Siddharth Menon, Nithya Menen | on YouTube |
Voice artist
| Year | Film | Role | Language | Notes |
| --- | --- | --- | --- | --- |
| 2013 | Gunde Jaari Gallanthayyinde | Shruti | Telugu | |
| 2019 | Frozen 2 | Elsa | Telugu | |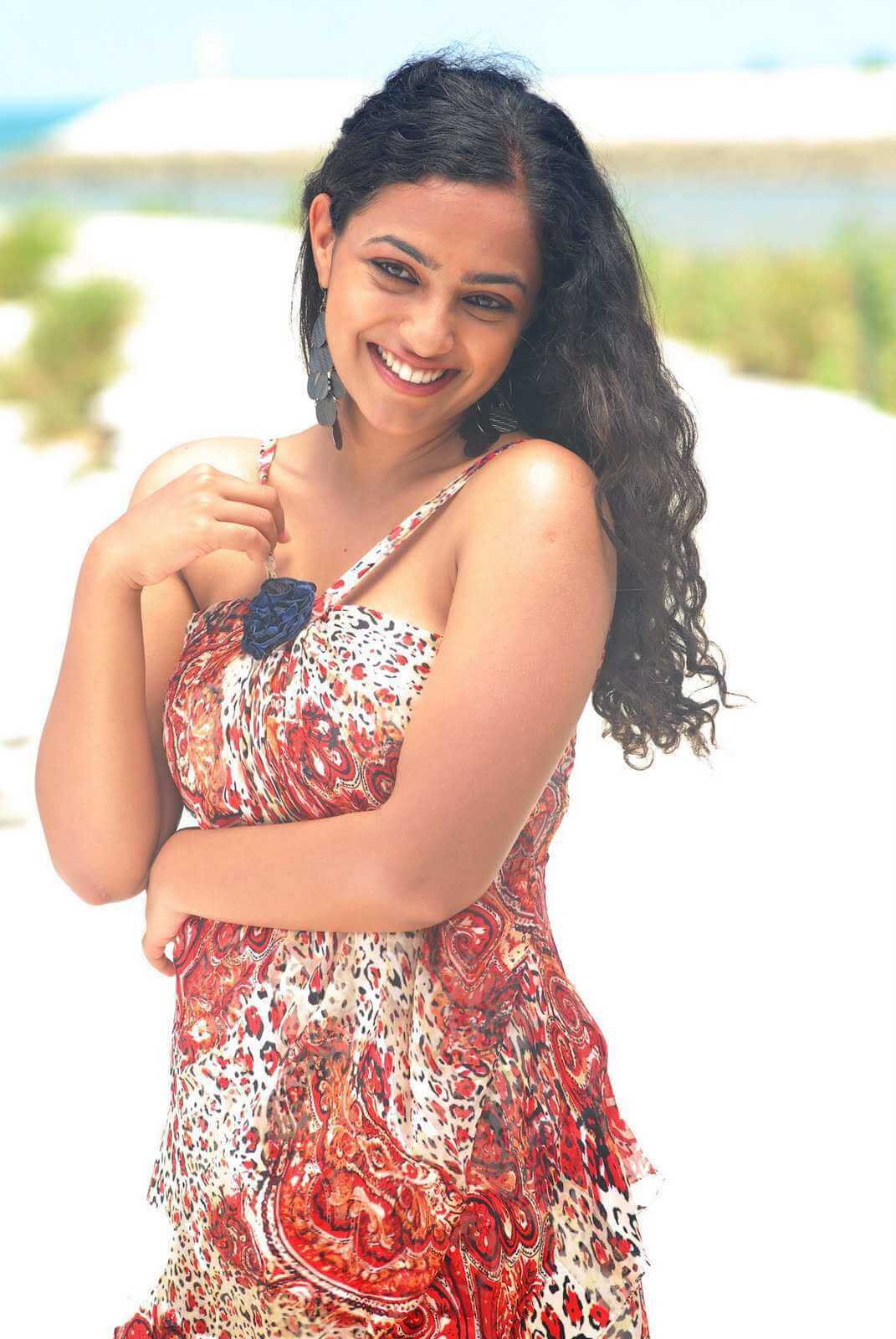 Discography (Nithya Menen Biography)
Year
Song
Title
Language
Composer
Notes
2010
"Payasa"
Aidondla Aidu
Kannada
Abhijit-Joe
2011
"Edo Anukunte"
Ala Modalaindi
Telugu
Kalyani Malik
"Ammammo Ammo"
2012
"Oh Priya Priya"
Ishq
Telugu
Anoop Rubens
"Payasam"
Poppins
Malayalam
Ratheesh Vegha
2013
"Arere Arere"
Jabardasth
Telugu
S. Thaman
"Doore Doore Neengi"
Natholi Oru Cheria Meenalla
Malayalam
Abhijith
"Modala Maleyante"
Myna
Kannada
Jassie Gift
Solo singer
"O Premada Poojari"
Duet with Shreya Ghoshal
"Thu Hi Rey"
Gunde Jaari Gallanthayyinde
Telugu
Anoop Rubens
"Hi My Name is Malini"
Malini 22 Palayamkottai
Tamil
Arvind & Shankar
"Kanneer Thulilye (Duet)"
"Madharthamma (Immigrant Mix)"
"Hi my name is malini"
Ghatana (D)
Telugu
"Navve Kaluva (Duet)"
"Yennali (Immigrant Mix)"
2015
"Paalnilaa: Lets Do the Dandiya"
Rockstar
Malayalam
Prashant Pillai
2016
"Laalijo"
24 (D)
Telugu
A. R. Rahman
"Hrudayam Kannulatho"
100 Days of Love (D)
Telugu
Govind Menon
2018
"Va Va Vo"
Mohanlal
Malayalam
Tony Joseph Pallivathukal
2021
"Thiruppavai"
Margazhi Thingal
Tamil
Ravi G
2022
"Thaniye"
Thaniye
Malayalam
Sidharth Menon
Music video
2022
"Thanha"
Thanha
Hindi
Accolades (Nithya Menen Biography)
Year
Award
Category
Work
Result
2013
CineMAA Awards
Best Actress – Critics
Ishq
Won
2010
Filmfare Awards South
Best Supporting Actress – Kannada
Josh
Nominated
2012
Best Supporting Actress – Malayalam
Urumi
Nominated
Best Actress – Telugu
Ala Modalaindi
Nominated
Best Female Playback Singer – Telugu (for "Ammammo Ammo")
Nominated
2014
Best Actress – Kannada
Myna
Nominated
Best Actress – Telugu
Gunde Jaari Gallanthayyinde
Won
2016
Best Actress – Tamil
O Kadhal Kanmani
Nominated
Best Actress – Telugu
Malli Malli Idi Rani Roju
Nominated
Best Actress Critics – Telugu
Won
2017
Best Supporting Actress – Tamil
24
Nominated
2018
Mersal
Won
2020
Filmfare OTT Awards
Best Actor in a Drama Series – Female
Breathe: Into the Shadows
Nominated
2013
Hyderabad Times of India Film Awards
Best Actor – Female
Ishq
Won
2016
IIFA Utsavam
Best Actress – Telugu
Malli Malli Idi Rani Roju
Nominated
Best Supporting Actress – Tamil
Kanchana 2
Nominated
2017
Best Supporting Actress – Telugu
Rudhramadevi
Nominated
2011
Nandi Awards
Best Actress
Ala Modalaindi
Won
2016
Special Jury Award
Malli Malli Idi Rani Roju
Won
2012
South Indian International Movie Awards
Best Female Debut – Telugu
Ala Modalaindi
Nominated
Best Female Playback Singer – Telugu (for "Ammammo Ammo")
Nominated
2013
Rising Star of South Indian Cinema – Female
—
Won
2014
Best Actress – Telugu
Gunde Jaari Gallanthayyinde
Nominated
2016
Best Actress – Tamil
O Kadhal Kanmani
Nominated
Best Actress Critics – Tamil
Won
Best Actress – Telugu
Malli Malli Idi Rani Roju
Nominated
Best Supporting Actress – Tamil
Kanchana 2
Nominated
Best Supporting Actress – Telugu
Rudramadevi
Nominated
2018
Best Actress – Tamil
Mersal
Nominated
2023
Thiruchitrambalam
Nominated
Best Actress – Telugu
Bheemla Nayak
2013
Vanitha Film Awards
Best Star Pair (With Dulquer Salmaan)
Ustad Hotel
Won
2012
Vijay Awards
Best Actress
Nootrenbandhu
Nominated
2015
Malini 22 Palayamkottai
Nominated